---
iTunes has become one of the best media players and libraries of today. Not just because it's the default media tool for Apple devices but also because it's efficient and user-friendly. It also gives users access to thousands of songs and videos and makes it easy for them to organize their media files. Using iTunes is pretty straightforward. Simply open the Music app on your iOS device or the iTunes software on your Mac or PC. However, things get more complicated when you have several computers and/or mobile devices and you want to access your iTunes content from each of them. This is also the case if you want to share your music and other content with your friends and/or family members. Fortunately, tackling these tasks isn't that difficult. Simply share your iTunes library and making it accessible to other devices and users. There are several ways to do this, and we've listed them below:
Share Your iTunes Library Through the Home Sharing Feature
Home Sharing lets you share your iTunes library with Macs, PCs, and iOS devices that are on the same Wi-Fi network as you. You can share and stream to a maximum of five computers, which is usually enough in most cases.
To use the Home Sharing feature, the first thing you should do is to consolidate your iTunes library. Some of the media files that iTunes use may be located outside the iTunes media folder. By consolidating them, you can create copies of these files and put them all into your iTunes library folder. This, in turn, gives you the assurance that you can access all the iTunes files you need from another computer.
Aside from consolidating your iTunes library, you have to make sure that your computer and the device you want to share with are within the same network. They should also be running on the latest version of iTunes (and iOS, if you're connecting to a mobile device).
After checking for these requirements, take the following steps:
Open the computer where your iTunes library is stored and pull up iTunes.
Click the File menu and look for "Home Sharing".
Choose "Turn On Home Sharing".
Click the Edit menu and choose "Preferences". This will pull up a new window.
Click on the "Sharing" tab.
Check the box beside "Share my library on my local network".
Choose "Share entire library" if you want other users and devices to have access to all your content. Alternatively, you can select the specific types of content (e.g. Music, Movies, Home Videos, etc.) that you want to share.
Check the box beside "Require password" if you want to protect your content with a password. If you don't want to bother with this, leave the box unchecked.
Check the box beside "Home Sharing computers and devices update play counts" if you want to track the number of times that a song is played. Leave it unchecked if you don't.
Click the "OK" button.
Once you've completed these steps, you can now access your iTunes library from another Mac or PC. To do this, open iTunes in that computer then click the Music icon from the drop-down menu on the upper-left corner of the window. Scroll down to the bottom to find your library and click on it to access your content. Just remember: both computers must be on, awake, and running iTunes for you to share your iTunes library from one machine to the other.
To access your iTunes library from an iOS device, go to the device's Settings, choose "Music". Then scroll down to find the "Home Sharing section". If you see the "Sign in" link, sign in with the Apple ID that you use on the computer with your iTunes library.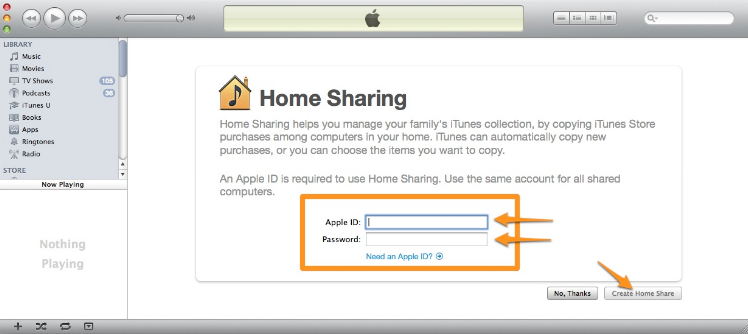 Share Your iTunes Library Through an NAS
If you have set up a home network, you most likely have a Network Attached Storage (NAS). An NAS is a type of storage device that can be accessed by all the devices in your network. You can set up a NAS in one of the computers that are linked to your home network, although you can also get an external hard drive, a dedicated server, or an NAS device.
Whichever you use, you can transfer your iTunes library from your local hard drive to your NAS after you've set it up. Once your library is in the NAS, you can easily access it from another computer, as long as it's connected to your home network.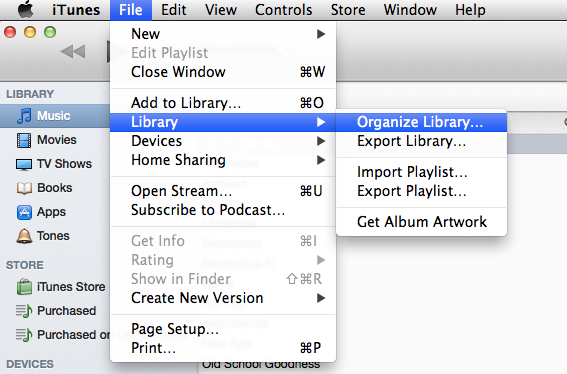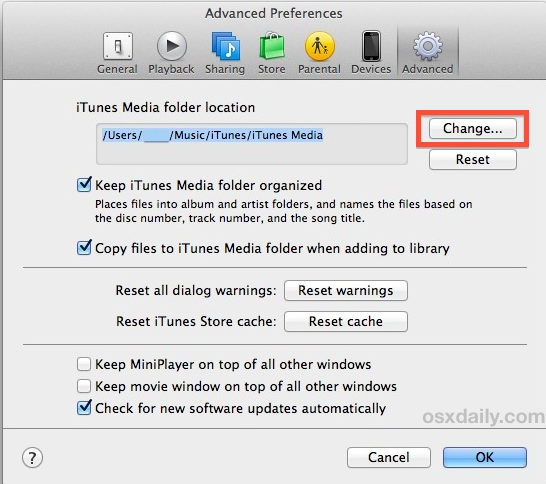 It's a bit more difficult if you're using an iOS mobile device. You'll have to download a special app before you can access your iTunes content. Some of the best examples are FileBrowser, Remote File Manager, LogMeIn Ignition, Wyse PocketCloud Pro, and Splashtop Remote Desktop. Once you have one of these apps, look for the option to connect to a network attached storage. Then input the IP address, username, and password attached to your NAS. You will then be connected to your NAS, where you can find and access to your iTunes library.
---
Trending Now