Mounting your TV on the wall can help you save space and give you a better viewing angle. While it might seem complicated to mount your TV, all you need is the right tools and know-how. Depending on your TV's size, you will need at least one other person to help you lift the TV when you place it on the mount. Here's everything you need to know about how to mount your TV on the wall correctly.
While you can mount your TV yourself, it can be a difficult process, especially if you have a larger TV and you want to mount it above a fireplace or in a corner. If you are uncomfortable mounting your TV yourself, you can always contact a professional at HelloTech to do it for you. We have thousands of experts across the country ready to visit your home and mount your TV for you.
What You Need to Mount a TV
Having the right tools is essential to mount your TV securely. Here are the tools that you will need to install your TV on a wall.
How to Mount a TV on Your Wall
Decide where you want to mount your TV. If you're thinking of mounting your TV above a fireplace, you might want to reconsider. Not only is this too high for comfortable viewing, the heat and soot from your fireplace can also damage your TV.
Use a stud finder to mark your studs. Once you've decided where to mount your TV, you should make sure that you have wall studs in the right place. The studs are the strongest sections of your wall, so you want to secure the center of your wall mount to these studs. If you try to install a wall mount on drywall, it might not be strong enough to support your TV's weight. Simply drag your stud finder across the wall and use a pencil to mark where your studs are.

Move your TV to a secure location. When mounting a TV you have already set up, make sure to unplug all the cables from your TV. Then place your TV face down on a soft surface that won't damage the screen. If your TV has its legs attached, you can remove them at this point.

Unbox your TV mount and check the parts. Most TV mounts come with a mounting plate, two brackets, and a set of screws. If you have an articulating mount, make sure that all the pieces move correctly, and nothing is broken or missing.
Ensure your mounting plate fits your studs. Before you start drilling holes in your wall, make sure that your studs are not too far apart for your mount. You can do this by holding your mounting plate or the mounting template up to the wall. Then making sure that the holes line up with the stud marks you drew on the wall.

Remove surrounding furniture and décor. Have a clean workspace by removing any big pieces of furniture or other items that might get in the way, making the clean-up process easier after you mount your TV.

Unscrew the VESA screws on the back of your TV. Locate the four VESA screws, which form a square or rectangle in the back center of your TV.

Align the mounting brackets on the back of your TV. Line the holes in the brackets up with the VESA screw holes on the back of your TV to make sure everything lines up perfectly.

Use a screwdriver to screw the brackets to the back of the TV. Use the screws that came with your mount, not the VESA screws that you just removed.

Assemble your mounting plate. If your mount came with extension arms, attach them now. You will only need to attach extension arms if your studs are farther apart than the length of your mounting plate.

Then place the mounting plate on the brackets. Make sure the mounting plate fits on the brackets.

Measure the distance from the bottom holes of the mounting plate to the bottom of the TV. You will use this measurement to mark your drill holes.

Use the previous measurements to mark drill holes on your wall. Remember, you want the middle of your TV to be eye-level from where you are sitting, usually about 42 inches from the ground. To find out more about how high you should mount your TV, check out our article here.

Double-check your studs with the stud finder. Remember, you want to secure your mount to the center of your studs.

Prepare your power drill. Plug your power drill's battery in and get your drill bit ready. You want to have your power drill within arm's reach.

Use a level on the mounting plate to mark the exact location of your drill holes.

Drill the pilot holes. Remove the mounting plate and use the markings to drill the pilot holes. Using a powerful drill allows you to get away with drilling the screws in without a pilot hole.
Then hold the mounting plate on the wall while you drive the screws into the wall. You should start by drilling the first two screws into opposite corners. This way, you don't have to hold the mount on the wall as long.

Check that the mount is secure. If you have an articulating mount, make sure that all the parts move easily. You can also take this time to double-check that your mount is level and make any necessary adjustments.

Then have another person help you lift your TV onto the mount. You want to lift the hooks on the brackets up and over the top of the mounting plate.

Then tighten the screws on the brackets. This will secure the bottom of your TV to the mount.

Next, plug your TV into a power outlet. If you have any other cords to attach, you can also plug them in at this time.

Finally, turn on your TV and make sure that everything works.
If you are having any problems mounting your TV, HelloTech offers same-day TV mounting services. Our experts are available seven days a week to hang your TV correctly and hide those ugly wires. We can even bring a TV mount for you if you don't have one.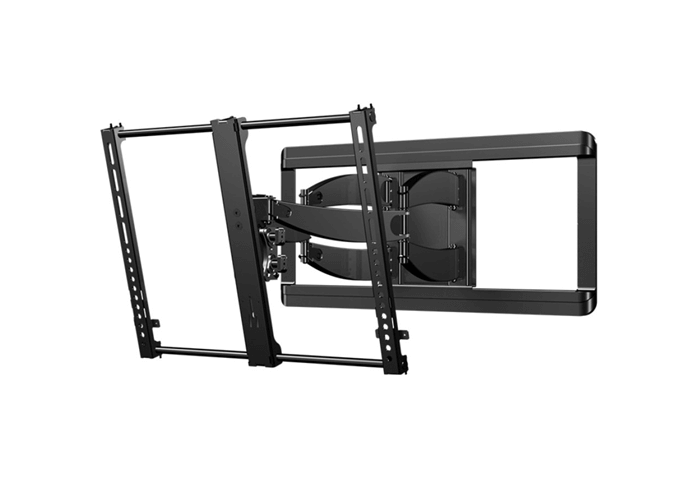 $275.00
$319.99
in stock
12 new from $275.00
2 used from $189.99
as of May 31, 2023 5:47 am
Last updated on May 31, 2023 5:47 am
HelloTech editors choose the products and services we write about. When you buy through our links, we may earn a commission.