---
Apple has formally joined the smart speaker race by introducing the HomePod at the 2017 WWDC. The tech giant is banking on advertising the HomePod primarily as a premium speaker that provides amazing audio. Given that the tech giant owns Beats, one would hope the technology and engineering of the Apple HomePod will live up to this claim.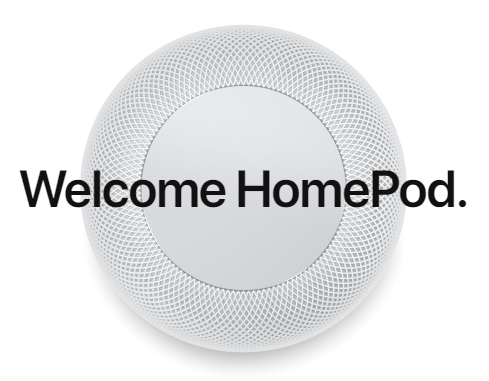 Philip Schiller, senior vice president of Worldwide Marketing in Apple said, "Apple reinvented portable music with iPod and now HomePod will reinvent how we enjoy music wirelessly throughout our homes."
But the Apple HomePod is more than just another gadget on an audiophile's wish list. This device is a speaker and smart home assistant in one. All you have to do is say "Hey Siri", and Apple's virtual assistant will come to life. You will know that Siri is listening when you see an LED waveform light up on top of the speaker. The wave light animates with every word. You can then ask Siri to play your favorite tunes, check for weather updates, or adjust your air conditioning.
With Siri now being omnipresent in your home, there are certainly concerns about privacy and whether you're being spied on. Apple assures the HomePod won't spy on you. It will only listen and send anonymized, encrypted data to Apple when you activate Siri. So unless you say "Hey Siri", it won't be eavesdropping.  
Apple HomePod Specs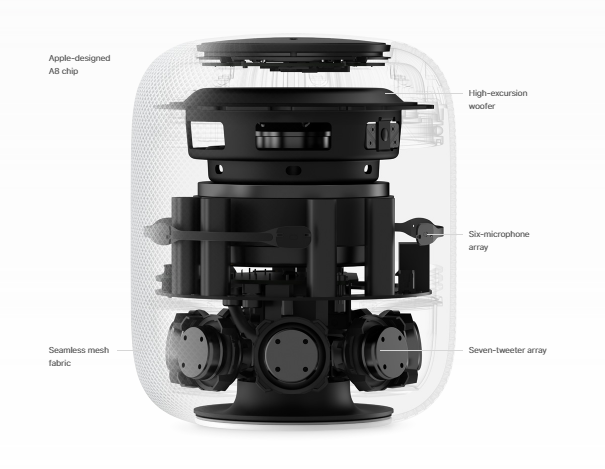 Size: 6.8 inches (height), 5.6 inches (width)
Weight: 5.5 pounds
Color: White or Space Gray
Languages: English (U.S., UK, and Australia)
Engineering: Apple A8 chip, high-excursion woofer, six-microphone array, seven-tweeter array, seamless mesh fabric
What the Apple HomePod Can Do
Provide a rich sound experience
The A8 chip and upward-facing woofer deliver a deep and clean bass with low distortion. The six microphones can pick up your voice from any direction, even with loud music playing. Each of the seven tweeters has its own amplifier, allowing precise control over beams of varying shapes and sizes.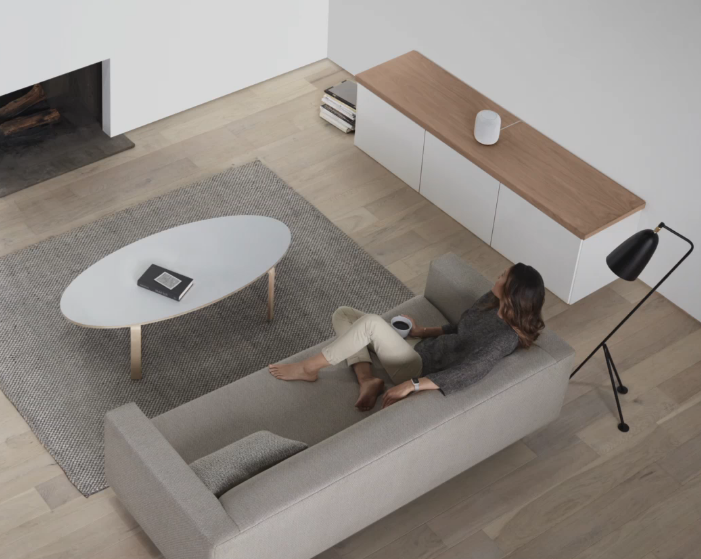 This smart speaker will automatically analyze the acoustics in the area and adjust the sound based on the location of the voice (the person) controlling it. This provides a truly 360-degree immersive acoustic experience, no matter how far you are from the Apple HomePod and no matter which room in the house you're using it.
When you use two HomePods in the same room, both speakers will detect and balance each other. If you use HomePods in multiple rooms, they can communicate and sync with each other through AirPlay2. This is also possible if you use a Apple HomePod together with third-party speakers that are compatible with AirPlay2.
Be your personal musicologist
Apple's new smart speaker is designed to work with Apple Music. Users will have access to more than 40 million songs from over 2 million artists. Siri will act as your musicologist, taking note of your personal preferences and helping you discover new music based on your tastes.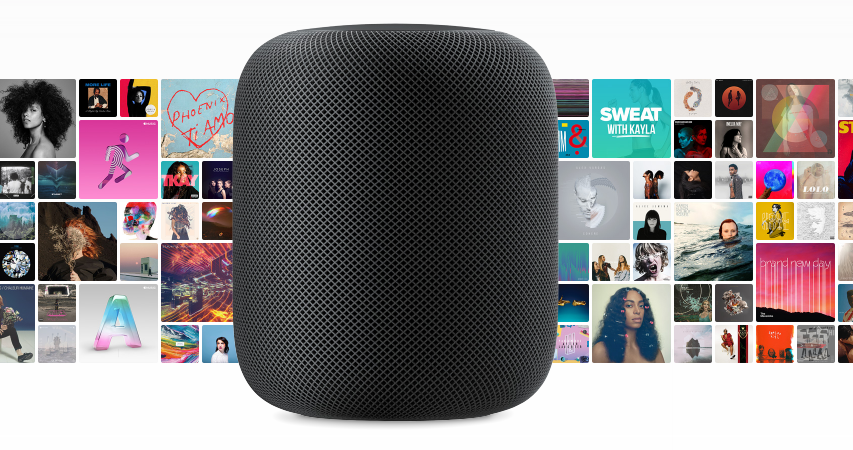 By simply saying, "Hey Siri, play me another song" or "Hey Siri, I like this song", your preference will be remembered. This data will be shared with your other Apple devices. You can also ask Siri to do more specific music-related tasks, such as play the top song from a certain date or tell you who the drummer is on the song that's currently playing. If there are several of you in the house, you can use a shared Up Next queue so everyone has a turn in playing their music.
Act as a voice-controlled home assistant
Music won't be the only thing you can control with the HomePod and Siri. Apple is also hoping to grab a share of the smart home assistant market by enabling the HomePod to help with everyday questions and tasks. It can function as a smart home hub for all devices that are compatible with Apple's HomeKit platform. This means that you can just sit back and relax, and ask Siri to close the blinds or open the garage door. You can also get answers to questions about the weather, traffic conditions, news, sports games, and other everyday and general information.
Can the Apple HomePod compare to other smart speakers?
When it comes to sound quality, it seems Apple's smart speaker has an edge over the competition. In a review on The Verge, the Apple HomePod did a comparably better job over the Amazon Echo and Sonos Play:3.
As for being a smart home assistant, Siri still has a lot to catch up on when compared to Google Assistant and Amazon's Alexa. But the fact that Apple has taken the leap into expanding Siri's capabilities is a hopeful sign that the company is working hard to take a step above the virtual assistant competition.  Or at least to continue improving Siri so it doesn't lag as far behind as it has the last couple of years.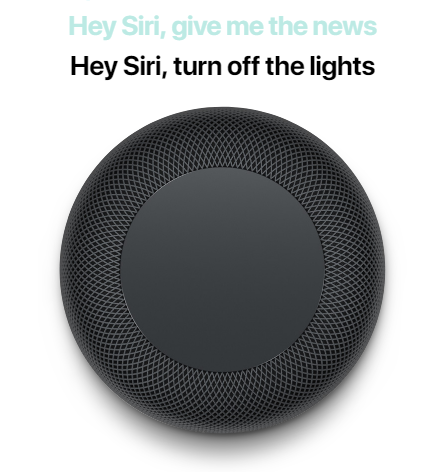 As far as smart speakers go, the HomePod is pricey. The introductory price is $349. Sonos' Play:1 is $199, Amazon's Echo is $180, and Google Home is $129.
Hopefully, Apple can really impress consumers with amazing audio quality and convince buyers that Siri has become smarter. We'll see more of how the Apple HomePod does in the market when it starts selling in December of this year.
*All images are from Apple.com
---
Trending Now