Having a printer is becoming a necessity these days, especially if you are working from home. You can now get cheap printers that can scan, copy, and fax in one machine. Here is our list of the home printers, including the best printers for photos, the best budget printers, the best all-in-one printer, and more.
If you're having problems with your current printer, you can always contact a professional at HelloTech to fix it for you. We have thousands of experts across the country ready to visit your home and help you troubleshoot your printer issues.
Brother HL-L2350DW: Best Budget Laser Printer
Color: No
Type: Laser
Cost Per Print: $0.03 black and white
Print Speed: 32 pages per minute (PPM)
Priced at just over $100, the Brother HL-L2350DW is one of the best printers you can get if you're on a budget. This black and white printer can connect to your computer via a USB cable, or you can print, scan, and copy pages wirelessly from your computer, smartphone, or tablet.
With the Brother iPrint&Scan app, you also check your toner levels in the app and order more toner cartridges. But with its high-yield toner cartridges, you probably won't have to replace them very often. And, since it's a laser printer, you can print more pages than an inkjet printer, and it can sit for a longer time between print jobs without causing any damage.
However, laser printers are notoriously bad at printing details in photos. Plus, this printer doesn't have an Ethernet port, which means it might not be the best choice for small businesses. The display screen is also very small and a little difficult to navigate.
$149.98
in stock
88 new from $129.00
6 used from $149.95
as of March 26, 2023 5:07 pm
Canon Pixma TS6320: Best Budget Wireless Printer
Color: Yes
Type: Inkjet
Cost Per Print: $0.07 black and white, $0.085 color, $0.21 photo
Print Speed: 9 PPM Black and White, 4 PPM color, 35 sec photo
The Canon Pixma TS6320 has everything you need from an all-in-one printer. First of all, it comes with a decent scanner that has a hinge, so you copy pages from thick books. It also supports both Bluetooth and WiFi wireless connections.
You can use the Canon PRINT app to print photos from the cloud or from your social media accounts. This wireless printer is compatible with AirPrint for iPhones and Google Cloud Print for Android devices. It's also compatible with Alexa and the Google Assistant, so you can use voice commands to print a document or check your ink levels.
If you want to know how to print from your iPhone, check out our step-by-step guide here.
It prints high-quality, borderless photos with clear details and vivid colors. It also has two paper trays with sliders for different sizes of paper, so you can print photos and documents with ease. And since it has five separate ink cartridges, you only have to replace the empty ones, which should help you save a lot on ink costs.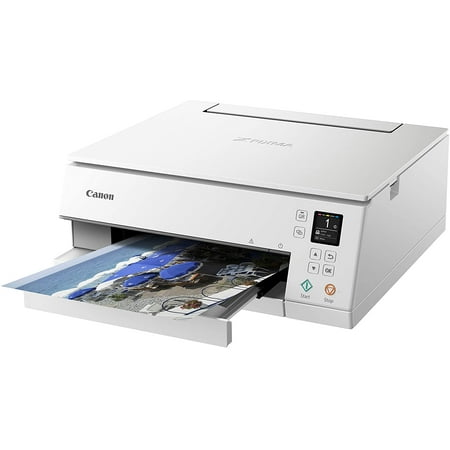 HP Envy Photo 7855: Best Home Photo Printer
Color: Yes
Type: Inkjet
Cost Per Print: $0.11 black and white, $0.17 color, $0.46 photo
Print Speed: 13 PPM black and white, 7 PPM color, 58 sec photo
The HP Envy Photo 7855 is the best photo printer because it prints high-quality photos with accurate colors. It also has an adjustable paper tray that lets you print on photo paper, labels, envelopes, and other popular formats.
This wireless printer supports both Bluetooth and WiFi connections. You can also print files using a USB flash drive or an SD card, which should make it easy to print photos straight from your camera. It also has an automatic feeder, so you can scan and copy multiple pages at once.
However, there is only one color ink cartridge, so you will have to replace it any time one color runs out. Also, you might have to perform several cleaning cycles to make it print properly. So, this might not be the best printer for non-tech-savvy users. If you are tech-savvy, you can connect this printer to your Alexa devices or use the Ethernet port to connect it to your network directly.
$174.99
$249.99
in stock
2 new from $174.99
21 used from $139.14
as of March 26, 2023 5:07 pm
Canon Imageclass MF445dw: Best Home Office Printer
Color: No
Type: Laser
Cost Per Print: $0.29 black and white, $0.12 photo
Print Speed: 40 PPM black and white
If you're looking for a printer for a small business or home office, the Canon Imageclass MF445dw is your best bet. This all-in-one printer has a huge five-inch touchscreen display and an automatic document feeder for scanning multi-page documents.
Unlike most laser printers, this printer has a built-in drum, so you only have to exchange the toner cartridge. Plus, it uses high-yield cartridges, so you won't have to change them out very often. If you're only looking to print in black and white, this printer offers the best cost-per-print in its price range.
There are lots of other features that make this one of the best home office printers, including its Ethernet port that lets you print over your network and two USB ports that let you print from external hard drives. However, this printer can be a little difficult to set up, but once you do, the companion app makes it easy to print from your smartphone and other wireless devices.
$427.52
$467.00
in stock
21 new from $398.50
2 used from $335.31
as of March 26, 2023 5:07 pm
Epson EcoTank ET-3760: Most Cost-Effective Printer
Color: Yes
Type: Inkjet
Cost Per Print: $0.003 black and white, $0.009 color, $0.025 photo
Print Speed: 16 PPM black and white
With its Supertank ink system, the Epson EcoTank ET-3760 is one the most cost-effective printers on the market. While it is the most expensive printer on this list, the Epson EcoTank ET-3760 will save you money in the long run, as long as you use it enough.
This all-in-one printer comes with replacement ink bottles that last the same as 80 regular cartridges. According to the manufacturer, each set is enough for up to 7,500 black and white pages or 6,000 color prints. Plus, the ink bottles for this printer are fairly cheap, so you'll save around 90% compared to traditional ink cartridges.
The Epson EcoTank is a wireless printer with voice-activated functions. This wireless printer does not support Bluetooth or external hard drives, but it comes with almost every other connection, including Ethernet, WiFi, Alexa, and AirPrint. The Epson iPrint app is excellent, and it lets you print, scan, and copy pages, as well as do maintenance, like check the ink levels and the nozzle health.
$417.97
in stock
23 new from $412.90
17 used from $278.00
as of March 26, 2023 5:07 pm
HP OfficeJet Pro 9015: Best All-In-One Printer Overall
Color: Yes
Type: Inkjet
Cost Per Print: $0.28 black and white, $0.11 color, $0.29 photo
Print Speed: 22 PPM black and white, 18 PPM color
The HP OfficeJet Pro 9015 has tons of great features, and it is easy to set up and use. Every aspect of this printer is good for its price point, from the large touchscreen display, to the high-quality build design, and much more.
This all-in-one printer has a flatbed scanner that lets you scan and copy from thick books and a sheetfed scanner with an automatic document feeder. You can even scan and print both sides of a page at the same time automatically.
With the HP Smart app, you can scan, copy, and print remotely from your smartphone, check ink levels, make photocopies, and organize documents with your QuickBooks or Google Drive. And it comes with built-in security, including encryption, password protection, and more.
While it does not support Bluetooth connections, this wireless printer has almost every other type of connection you would every want, including WiFi, Ethernet, USB, AirPrint, Alexa, the Google Assistant, and external hard drives. It even has "self-healing WiFi," which will automatically reconnect to your network when you have WiFi issues.
$240.99
in stock
12 used from $240.99
as of March 26, 2023 5:07 pm
Once you choose a printer, check out our step-by-step guides on how to add a printer to a Windows 10 PC and how to add a printer to a Mac computer.
HelloTech editors choose the products and services we write about. When you buy through our links, we may earn a commission.
Thanks for your feedback, add a comment here to help improve the article