Uber, Lyft, and other ridesharing companies are great additions to the transportation industry. Their innovative use of technology makes these new rideshare options more convenient in so many ways.
While once we would wave frantically at passing cars, hoping they might stop to pick us up, now we simply tap our smartphone and are guaranteed a ride. Hailing by hand is to transportation what hitting flint is to cooking — maybe you'll resort to it if things get really desperate. But with all these rideshare options, so readily available, how do we best decide which one to use and when? Here are the best ridesharing comparison apps:
Which Rideshare Company is Better?
The concept of ride-hailing has become so well accepted that more players are entering the field. There are now numerous ridesharing apps in various stages of development, and soon there will be more to choose from. While that may sound like all good news, more options means a more complicated decision making process and, subsequently, more regret when you're stuck waiting on the sidewalk for an overpriced ride.
So, which is better – Uber, Lyft, or any of the several ride-hailing services currently in existence? Questions about prices and wait times are especially prominent. Which one is cheaper? Which one can help you save money while still delivering great service? Which can pick you up sooner, right now, when you're ready to go?
Say hello to price and wait comparison apps! They help you compare different ride-hailing services based on your location and destination. View approximate fees and wait times in one place. To make it even more convenient for you, here is a rundown of the better comparison tools out there so you can easily choose which one is best for your comparison needs.
Why Use Ridesharing Comparison Apps?
There are numerous benefits to using ridesharing comparison apps, namely:
You can view more options, enabling you to make better ride hailing decisions.

There is potential to save money. Sure, the differences can be just a dollar or two, but over time the savings will add up.

You can save time. Knowing the shortest wait time can be the difference between a good and bad day.

Avoid surge pricing shock. Ridesharing shouldn't be a blind auction.

Widen your transportation options. Trying new things can be fun, convenient, and save you money.
Google Maps
Google Maps has come a long way. This application not only offers directions and turn-by-turn navigation, it also provides travel times for multiple types of transportation, including ridesharing.
Just key in your pickup location (or use your current location) and your destination, then tap on the ridesharing option – the stick figure holding a briefcase and waving. Google Maps will then show you a fare range for three rideshares: Uber, Lyft, and Juno. It also displays the wait time along with directions and travel time. Its interface is pretty straightforward and gives you the info you need right away. Once you've decided on a ride, you can navigate directly to the rideshare app of your choice by clicking on that option inside of Google Maps.
Google Maps is available on the Play Store and on iTunes.
Apple Maps
Not to be outdone by Google Maps, Apple also provides comparisons of ride hailing services right inside their map application. And they go a step further by allowing users to book a ride from both Uber and Lyft within the Maps interface. They do so via extensions.
For this to work, you'd need to have the corresponding ridesharing apps installed as well. Open Apple's Maps application, then go to "Ride Booking Extensions" in order to activate the communication between Maps and Uber/Lyft. Simply toggle on both options.
Then, go back to Apple Maps to input your location and destination. Press the "Ride" button and you will see the nearest available drivers, prices (exact prices for Uber and estimates for Lyft), and wait times. You can even see the maximum capacity of each vehicle option. Once you've decided, you can requestthe ride without leaving Apple Maps. Talk about convenience!
As of now, though, you can only compare Uber and Lyft inside Apple Maps. Time will tell if more ridesharing extensions will be added.
Download Maps here.
Bellhop
Bellhop describes itself as "the best rideshare comparison tool". (iOS | Android) Not only does it compare Uber and Lyft, it also provides data from other ride-hailing companies such as Juno, Curb, and Arro. Plus, it compares all of these rideshares with other major taxis. In terms of the number of options compared, they seem to have a slightly wider pool at the moment.
Like the two above, all you have to do is enter your location and where you are headed. Bellhop will then show you a wide variety of rideshares available, prices, estimated waiting times, and car types. This app also promises to let users book their ride without leaving its interface.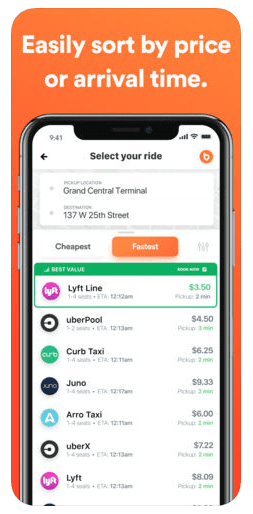 With the ability to compare more ridesharing companies and even taxis, users will certainly be able to make more discerning choices. It's not a stretch to say that you can truly save money and time by using this app.
At the moment, they are concentrating their efforts within NYC, so that means users in other cities might experience less than optimal comparison results. Its reviews on the Google Playstore are currently less than ideal. Bellhop does plan to make their presence felt nationwide and their customer support team is quite prompt in replying to app store reviews.
It is also worth pointing out that Uber and Lyft have a history of preventing third-party apps from accessing and displaying their data. So, it remains to be seen whether Bellhop will be able to execute their plans with full speed or, inversely, stopped dead in their tracks by litigation from the rideshare companies.
GoA2B
This app is yet another comparison tool that promises to get you from A to B faster and in a way that allows you to save money. (Available on iOS)
Like the others on this list, they compare prices and wait times. One nice thing about them is they provide surge alerts, which can be a boon to anybody who detests the idea of surge pricing or anyone who just wants to be informed in order to make better ridesharing decisions.
GoA2B functions as a comparison tool only, which means that you cannot book a ride within its interface, similar to Google Maps. The app does offer the ability to bookmark favorite routes, something that you might find extra convenient. Also, it compares more providers, again a good thing if you want to have more options without too much hassle.
Just like Bellhop, GoA2B is not affiliated with any of the ride-hailing companies it compares. So, it might be subject to the providers' restrictions as well.
Comparing the Ridesharing Comparison Apps
Now we have this question – which of these ridesharing comparison tools are best?
Here's a table to give you a quick overview of all the apps above:

The answer is really subjective. As of the moment, in terms of reliability, Google Maps and Apple Maps are the top choices. They are giant companies so it stands to reason that they can strike deals with Uber, Lyft, and other providers. Integration between them is expected to be better, which can mean that users will get better comparison data and more accurate approximations.
As for other third-party comparison apps, they run the risk of getting into trouble with ridesharing companies down the road. Uber and Lyft have already asked a few companies in the past to stop displaying data about their rides, even if those were just estimates. They provide a whole bunch of reasons, but the idea is that the comparison tools from smaller developers may not be as flexible or accurate later on.
Still, it is worth trying out these other apps and knowing for yourself if they benefit you or not. Take note that your location or smartphone's operating system can be a factor, too. When it comes to comparing more providers, Bellhop and GoA2B are leading at the moment. Try them out and see for yourself.
What to Keep in Mind When Using Ridesharing Comparison Apps?
Rideshare comparison apps or features are created to assist. This means that the prices and wait times you see are often approximations. Price and wait time may change without any prior notice since these are ultimately controlled by the rideshare companies.
Still, seeing estimates will help you choose wisely. It can also assist you in managing your schedules better. Or, help you better communicate your arrival time to whomever you're meeting at your destination.
All in all, ridesharing comparison apps have their place in the mobility industry. Take full advantage of them!

Thanks for your feedback, add a comment here to help improve the article