---
The Wall Street Journal reported yesterday that Amazon is planning to unveil a new Echo very, very soon. True to their word, Amazon has unveiled the new version.The previous model, which is a cylindrical speaker powered by the AI Alexa, is now officially old-school. The next generation is here and it is called Echo Show – a smart speaker with a touchscreen!
The new device is expected to perform better at its job. It is also be equipped with more features perfect for smart homes and tech-savvy individuals.
What Does Echo Show Offer?
The new Amazon Echo is equipped with excellent features, such as:
7-inch touchscreen
Color: black
It weighs 41.0 oz (just slightly above a kilogram) and has dimensions of 7.4″" x 7.4″ x3.5″
It comes with a 5MP camera and is Bluetooth-enabled.
Connects via dual-band WiFi, although it does not support connections to peer-to-peer WiFi networks
As for its speakers, users can now enjoy dual 2-inch stereo speakers.
Its Intel Atom x5-Z8350 processor makes it capable of high-speed processing
Comes with an Alexa app that is compatible with iOS, Android, and Fire OS devices.
It is also under a 1-year warranty service, though extended 2 or 3-year warranties are offered to US customers.
Included in the box are a power adapter or 6-ft cable, a Things to Try card, and a user manual.
The Echo Show is quite simple to set up and is very convenient to use.
The device will start shipping on June 28, 2017, but interested buyers can pre-order as early as now.
Feature Highlights
Amazon's Echo is known for being an excellent virtual assistant for homes. You can command it, through the voice-activated AI Alexa, to play music for you. You can also ask it to help you find products, which streamlines your online shopping. Echo can also be connected to other smart home devices in the house, allowing you to control your appliances via voice.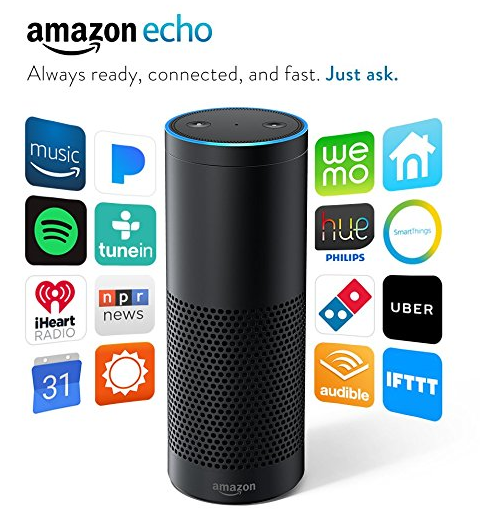 The old Amazon Echo
Now that Echo Show is here, it packs a whole set of new advanced features.
Hands-Free Video Calling Capabilities
You can now make video calls through the AI-infused speaker! And since everything is expected to work through WiFi, no need to use a SIM card. Since the Echo Show now has a 5MP camera and a chic touchscreen, you can simply ask Alexa to phone anyone. You'll then be able to talk to them right there on the display, hands-free!
Some people may be hesitant to make calls using the Echo Show because it's not like you can put it near your face and mouth all the time. But it is actually equipped with eight microphones and noise cancellation. It also takes advantage of beam-forming technology. All of these means that wherever you are standing in the room, Echo Show will hear you and pick up your voice with no problem. In fact, it will hear your commands just fine even if music is currently playing through the device. Making video calls shouldn't be too much trouble then.
Just imagine the convenience this would bring. Say you are making dinner or changing your kid's clothes. Obviously, your hands will be fully occupied. But what if you need to call your husband so he can buy something for you before he gets home? You need not stop what you are doing and get your phone. All you have to do is say "Alexa, call (insert name here)." This is definitely a great and hassle-free way to keep conversations flowing!
Querry Results Are Displayed
What's the point of a screen when you can't maximize it right? So, now, Echo Show will display the results of your queries on its 7-inch screen. You can ask Alexa to show you Youtube videos or video flash briefings. Aside from that, you can now enjoy your music more. Lyrics will be shown on screen and you can sing along!
Want to view the feed from your security cameras or baby monitors? Want to know the weather forecast, browse through photos, or check your shopping lists? Simply command Alexa and she will show you.
Excellent Speakers
Just because the new Echo now has a touchscreen display, doesn't mean it has abandoned its roots. You can continue commanding it to play music for you and expect a great listening experience. The stereo speakers wth Dolby processing will provide listeners with crisp vocals along with an extended bass response. Although small in dimensions, the device is a powerful speaker and it can fill your rooms with satisfying music anytime!
Smart Home Control
Whether you want to turn on the air conditioning unit or view the feed from your front door security camera or baby monitor – Echo Show can assist you. According to Amazon, the new Echo can be used to manage a wide range of devices, including sprinklers, fans, lights, cameras, thermostats, garages, and more. It is also compatible with devices from popular smart home brands like Ring, Philips Hue, SmartThings, Wink, etc. Now you can manage your home better and make it more comfortable, without lifting a finger!
Amazon Stays Ahead of the Competition
The announcement of a new Echo with a touchscreen puts Amazon at the head of the race. The product is the first AI speaker to have a display.
Prominent individuals from Apple have talked about creating a similar device before. In fact, there are rumors that Apple will soon be releasing a device similar to Echo but, of course, run by their own AI – Siri. Although the grapevine isn't too sure about Apple incorporating a display into their AI speaker, the company's marketing chief had some telling comments.
Schiller once said, "I have yet to see any voice-only games that, for me, are nearly as fun as the one that I play on my screen. And so I think voice assistants are incredibly powerful, their intelligence is going to grow, they're gonna do more for us, but the role of the screen is gonna remain very important to all of this."
This seems to suggest that if ever Apple will release an AI speaker, then it too would have a display.
Then, let us not forget that Google continues to hone their Google Home technology. The competition is indeed fierce.
But now that Amazon's new Echo has been unveiled, then this product puts the company firmly ahead of the competition.
While other tech giants in the smart home and AI space are playing catch-up, Amazon continues to obtain a commanding position in the shifting market. In fact, a study conducted by eMarketer pointed out that Amazon dominates the AI speaker niche. About 70.6 percent of US users prefer Amazon's voice-controlled speakers over other products. Google Home is only used by around 23.8 percent of consumers, while 5.6 percent of users patronize other brands (LG, Lenovo, Mattel, etc.).
One the new Echo starts shipping in June, Amazon's lion share is sure to benefit them a good deal. And users will start enjoying a smarter and more improved Echo Show!
---
Trending Now