Just before the holiday season starts, Apple finally unveiled its new line of iPhones, as well as a smaller version of its HomePod smart speaker. During its annual hardware event, Apple announced four new iPhone 12 models, all of which feature 5G technology, edge-to-edge displays, and twice the screen resolution as previous models. Apple also announced the HomePod Mini, which is much smaller than the previous HomePod, at about a third of the price. Here's everything you need to know about the iPhone 12 and HomePod Mini, including the price and release date of each new device.
HomePod Mini
Apple started its annual hardware event introducing the new HomePod Mini. This smart speaker is only 3.3 inches tall, but it comes loaded with tons of features. Aside from giving you room-filling sound, you also get a smart assistant that allows you to control your smart home tech.
Apple designed this smart speaker from the ground up to deliver high-quality audio. It pushes sound down and out the bottom of the device to deliver 360-degree audio, so you can place it anywhere in the room. It also comes with powerful hardware and advanced software that analyzes and optimizes your music in real-time. Apple even designed the mesh fabric covering "specifically for its acoustic performance."
If you put two HomePod Mini speakers in the same room, they will automatically sync up to give you stereo sound. Plus, it will recognize your Apple devices when you place them near each other. Then you can stream music from your iPhone or Apple TV to your HomePod Mini without missing a beat.
The HomePod Mini comes with Siri built-in, and Apple's smart assistant is smarter than ever. Now, Siri can connect to your iPhone and let you use your apps directly from the HomePod Mini. That means you can use voice commands to make calls, check your calendar, play music from your iPhone, and more.
On top of the HomePod Mini is a backlit touch surface with indiscrete volume and play/pause buttons. It illuminates when you touch the top of the device or say Siri's wake word. Siri also integrates with the Home app, so you can use voice commands to control your smart home devices with this smart speaker.
The HomePod Mini will be available for pre-order on November 6, and it will start shipping on November 16. It will have a starting price of $99, which is only one-third the price of the previous HomePod. You can get the HomePod Mini in white or space gray.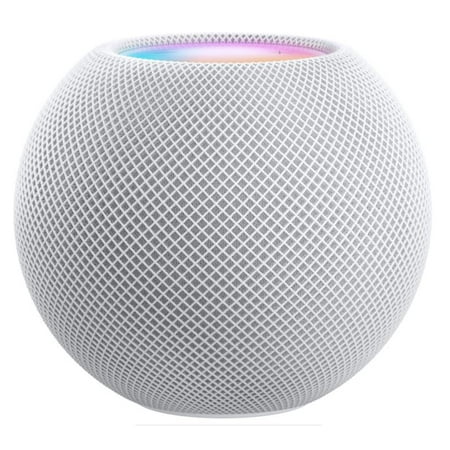 iPhone 12
The biggest announcement Apple made at its event was the iPhone 12, the tech giant's first smartphone with 5G technology. With 5G, the iPhone 12 will offer faster download speeds, higher quality video streaming, more responsive gaming, and more.
Apple designed the new line of iPhones with more 5G bands than any other smartphone on the market. According to Apple's testing, the new iPhone can obtain peak download speeds of over 4 Gbps (gigabits per second) "in ideal conditions" and 1 Gbps in "typical conditions."
If you want to know more about what 5G is and when it will be available in your area, check out our article here.
The iPhone 12 departs from recent models with its squared-off design that is more reminiscent of the iPhone 5. This redesign allowed Apple to retain the same 6.1-inch display of the iPhone 11, while making the new model 15% smaller, 11% thinner, and 16% lighter.
The edge-to-edge screen is also tougher than ever, with Apple's new Ceramic Glass that gives the iPhone 12 four times better drop performance. Apple also boosted the resolution of the new OLED screen, which now has twice as many pixels as the previous generation. That means text will be easier to read, and your photos and videos will be brighter and more detailed.
The new line of iPhones are powered by Apple's fastest processor ever, which makes them 50% faster than the iPhone 11. The A14 Bionic chip is so fast that the iPhone 12 can even run popular PC games, like League of Legends.
The new dual rear camera system features a 12 MP (megapixel) Ultra Wide lens and a 12 MP Wide lens that offer 27% better low-light performance. The new line of iPhones also use machine learning to bring out more detail in your photos and videos. Plus, the iPhone 12 is the first smartphone that allows you to capture, watch, edit, and share videos in HDR and Dolby Vision.
Apple also announced the iPhone 12 Mini, which has all the same features as the iPhone 12, just in a smaller package. The iPhone 12 Mini is about the same size as the iPhone 8, but it has a larger 5.4-inch display, compared to the iPhone 8's 4.7-inch screen. That makes it the smallest 5G smartphone ever.
The iPhone 12 Mini starts at $699, while the iPhone 12 has a starting price of $799. You can pre-order the iPhone 12 on October 16, and it will start shipping on October 23. The iPhone 12 Mini will be available for pre-order on November 6 and ship on November 13.
MagSafe
All iPhone 12 models now come with a new array of magnets at the back of the device. This allows you to attach accessories like cases and wallets easier than ever. The magnets surround the wireless charging coils, so you will get the best alignment with your wireless charger.
Wireless charging is more important than ever, especially since the new line of iPhones no longer ships with a power adapter. Because Apple is working to reduce its carbon emissions, none of the new iPhone 12 models will come with lighting headphones or power adapters. However, they will still come with a lightning to USB-C cable, which you can use to charge your device just like the previous iPhone models.
iPhone 12 Pro
To cap off its hardware event, Apple introduced the iPhone 12 Pro and Pro Max models, which feature the largest displays of any iPhone ever released. While the new Pro models are the same size as the previous generation, the edge-to-edge display means the iPhone 12 Pro has a larger 6.1-inch screen, and the iPhone 12 Pro Max has a huge 6.7-inch display.
With such a large screen, the iPhone 12 Pro Max has over 3.5 million pixels, and it supports 4K video recording with HDR and Dolby Vision. Your photos and videos will look great with the advanced image stabilization and optimization that can capture more than 700 million colors.
The Pro models of the iPhone 12 both come with the same A14 Bionic chip, HDR and Dolby Vision support, and 12 MP cameras that of other iPhone 12 models. However, the iPhone 12 Pro and Pro Max also feature a 12 MP telephoto lens and a LiDAR scanner that improves autofocus, even in low-light conditions.
The new Pro and Pro Max iPhone 12 models are designed with a surgical-grade stainless steel finish and an IP68 water-resistance rating. That means the Pro line of iPhone 12 can withstand being submerged in 20 feet of water for 30 minutes.
The iPhone 12 Pro starts at $999, and it will be available for pre-order on October 16. The iPhone 12 Pro Max starts at $1,099, and it will be available for pre-order starting on November 6.
HelloTech editors choose the products and services we write about. When you buy through our links, we may earn a commission.
Thanks for your feedback, add a comment here to help improve the article