The iPad is one of the mobile devices that you can get for work and entertainment. But typing on the iPad can be quite cumbersome. Thankfully, you can attach or connect a keyboard to your iPad to make it much easier. If you want to do work with your iPad, here is our list of the best iPad keyboards you can find in 2020.
Best Apple Keyboard for iPad
When it comes to the best iPad keyboards, you really can't go wrong with choosing one from Apple. Here are two of your top options:
Smart Keyboard for iPad
The Smart Keyboard for iPad is ergonomically designed for the iPad, iPad Air, and iPad Pro. It is full-sized, without being too thick or cumbersome. It can connect easily to an iPad, so there's no need to fiddle with Bluetooth settings or any other connections. You simply attach the keyboard and start typing. When not in use, you can fold the keyboard to use as a lightweight cover for your iPad.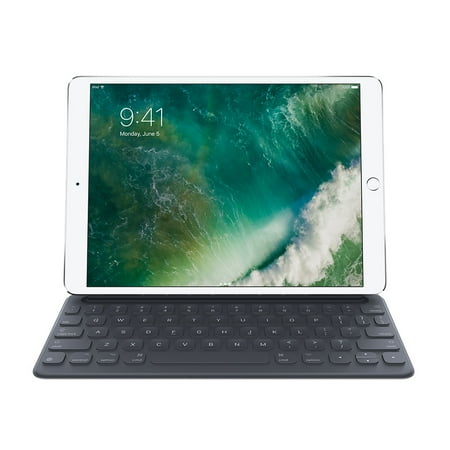 Smart Folio for iPad
If you want your keyboard to provide added protection for your iPad, the Smart Folio is for you. Unlike the Smart Keyboard above, this particular peripheral provides protection both for the back and front of your iPad. It also allows you to set the screen up in several viewing angles, so you can work comfortably. As far as the keyboard goes, the Smart Folio is full-size, thin, and beautifully designed. It attaches and connects to your iPad easily, too.
The Smart Folio is available for the 11-inch and 12.9-inch iPad Pro.
Shop: Apple
Best iPad Bluetooth Keyboard
If you find iPad keyboards from Apple are too expensive, don't despair. Here are some of the best iPad Bluetooth keyboards that you can choose from:
Omoton Ultra-Slim Bluetooth Keyboard
The Omoton Ultra-Slim Bluetooth Keyboard is one of the highest-rated iPad keyboards on Amazon. This Bluetooth tablet peripheral has a traditional QWERTY format with hotkeys customized for use on iPads. For example, it has keys for adjusting the volume and brightness.
This keyboard is compatible with the iPad, iPad Air, iPad Mini, and the new iPad Pro. But since it's a universal keyboard, you can also use it with Android tablets and mobile phones. This universal connectivity isn't the only thing great about this Omoton accessory, however. Its price is also something to write home about. Unlike the original Apple keyboards that cost at least $150, the Omoton Ultra-Slim Bluetooth Keyboard in white or black is only $15.99. The pink version is only a little extra at $16.99.
The Omoton iPad keyboard measures 11.2 x 4.7 x 0.2 inches and weighs 5.6 oz. It is powered by two AAA batteries. According to the manufacturer, the batteries can last up to six months.
$15.29
in stock
3 new from $15.29
as of October 22, 2021 10:30 am ⓘ
Arteck Universal Slim Keyboard
The Artech Universal Slim Keyboard is another Bluetooth option for those who want a cheap alternative to the Apple Smart Keyboard. Priced at only $19.99, this iPad keyboard is sure to make your wallet happy.
Just like the Omoton keyboard above, the Arteck Universal Slim Keyboard comes in three color options. But the colors of the Arteck come in the form of cool backlights. There are seven backlight variants to choose from, and each comes with three levels of brightness and an auto-sleep feature to conserve energy. While the Omoton is compatible only with iOS and Android, the Arteck also works with iPads, iPhones, Android tablets, and even Windows devices.
This iPad Bluetooth keyboard measures 9.72 x 0.24 x 5.91 inches. It weighs 7.6 oz and comes with a rechargeable lithium battery.
$19.99
in stock
10 used from $15.99
as of October 22, 2021 10:30 am ⓘ
Logitech K380 Multi-Device Bluetooth Keyboard
This universal keyboard works with the iPad and iPhone. It also connects to devices running on Windows, Chrome OS, and Android. Priced at less than $30, this Bluetooth keyboard comes in two colors: blue and dark gray.
One of the great features of this portable keyboard is that is comes with an Easy-Switch function. This allows you to connect three devices at the same time and switch between them by clicking the light-colored buttons near the ESC key.
This keyboard is a bit heavier than the Omoton and Artech, at 14.4 oz. It measures 10.9 x 4.9 x 0.6 inches. It takes two AAA batteries, which are not rechargeable. The manufacturer claims that the batteries will last up to 24 months before you have to change them out.
$29.99
$39.99
in stock
27 new from $29.99
3 used from $24.40
as of October 22, 2021 10:30 am ⓘ
Best iPad Keyboard Case
Looking for an iPad keyboard that also doubles as a protective case? We have here several that you can choose from. They are generally more expensive than Bluetooth-only keyboards, but the added protection is definitely worth the extra cost.
COO iPad Keyboard Case
The COO iPad Keyboard case comes in a wide variety of colors. You also have the option to get a standard keyboard or one that has a backlight function. There are several models available of this accessory, with sizes ranging from 9.7 inches to 10.2.
This keyboard uses Bluetooth that is easy to sync. The case also offers multiple viewing angles. No matter if you're typing or watching videos, your neck will not hurt when using the COO iPad Keyboard Case.
This peripheral weighs over 15 oz. The Bluetooth keyboard is also compatible with Android and Windows devices.
$36.99
in stock
2 new from $30.00
as of October 22, 2021 10:30 am ⓘ
Yekbee iPad Keyboard Case
Another great iPad keyboard case option is this Yekbee model. Complete with backlit keys in ten color variants and dedicated iPadOS shortcuts, this keyboard will make your iPad feel more like a little laptop.
What makes this iPad keyboard case unique is that it lets you view the screen at virtually any angle you like, and you can even rotate the screen. If you need to share your iPad screen with someone sitting across from you, simply twist the screen, so that they can see it.
This case measures 9.6 x 7.5 x 0.5 inches. It has a long battery life, and you can recharge the battery once it runs out of juice.
$64.89
in stock
2 new from $64.89
5 used from $47.97
as of October 22, 2021 10:30 am ⓘ
Keyboard Case with Touchpad
If you are looking to truly transform your iPad into a laptop, a keyboard case with a functioning touchpad is what you need. This keyboard gives you backlit keys with two modes, synthetic leather materials for better protection, and a flexible hinge for multiple viewing angles. The built-in touchpad allows you to use your iPad like a MacBook, without having to constantly touch the iPad screen.
$54.97
in stock
2 new from $54.97
5 used from $37.96
as of October 22, 2021 10:30 am ⓘ
If you use your iPad for work, check out our article on the Microsoft Office App for iPhones and iPads.
HelloTech editors choose the products and services we write about. When you buy through our links, we may earn a commission.