If you're looking to build your new smart home, it is crucial to find gadgets that are compatible with each other. With Alexa, you can connect your devices and perform a variety of tasks through voice commands. To make it easier for you to build your smart home with compatible devices, here's what works with Alexa:
Smart Home Hubs That Work With Alexa
The Nexia Bridge is a smart automation system that connects all your smart home devices with an easy-to-use app. This creative ecosystem for your home works with various Z-waves devices. Integrating the Nexia Bridge with your Amazon Echo allows you to control your smart thermostats, lights, plugs, and other accessories with Alexa voice commands.
If you've researched what you need for your smart home, then you know that a home controller is crucial for creating a home automation system. A home controller will centralize and consolidate all your security, lighting, heating, entertainment, and other smart home devices. HomeSeer has several smart hubs that work with Alexa.
To maximize efficiency, you can get a Wi-Fi router that serves a double function. The Almond router from Securifi is both a wireless router and a smart home hub in one device. You have 4 devices to choose from, all of which are compatible with Alexa. Some of the devices also function as a home security system as well (but only if you purchase additional sensors).
Universal Devices is well known for its Insteon-compatible ISY smart home hubs. The company has two hubs to choose from: the ISY-994i Series and ISY-994iZw Series. The two offer Insteon compatibility, but the ISY-994iZw Series has a Z-Wave radio addition. By using either device's connection with Alexa, you have the power to control all of your smart home devices with ease.
If you want your smart home to have a uniform brand for all your smart devices, then you have to look up Insteon. The company created most of its intelligent dimmers, outlets, switches, and plugs itself, so they all work with each other. Because of Insteon's integration with Alexa, all of their devices can be controlled with voice commands.
Smart Plugs That Work With Alexa
Have you ever dreamed of controlling your smart home with a remote control? Well, iHome Smart Plugs enable you to control any device via remote control. The Smart Plug works with Alexa devices, as well as Nest, Wink, and Apple HomeKit.
To find the best smart plugs that work with Alexa, check out our previous blog here.
Light Switches That Work With Alexa
Belkin is well known for making smart plugs, but they also make automated light switches. With the Wemo smart switch, you can control your lights from anywhere in the world. You can also set them to turn on or off on a schedule, or even randomize them to make it look like you're home when you're not. The Wemo switch is compatible with Alexa devices, as well as Google Assistant, Apple HomeKit, and IFTTT.
Light Bulbs That Work With Alexa
Aside from Wi-Fi routers, TP-Link also makes some affordable gadgets for your smart home. They have a wide range of smart bulbs that are dimmable and come in different colors. These bulbs do not require hubs, and they are all compatible with Alexa.
The most popular smart bulbs on the market are from Philips Hue. This starter's kit comes with four bulbs that have 16 million color combinations. The kit also comes with its own hub that works with Alexa, as well as Siri and the Google Assistant, so you can control your lights with voice commands, no matter what kind of smart home you have.
There are tons of smart bulbs on the market, but if you're looking for an all-in-one product that can multitask, then this one for you. The company's products can be an excellent alternative to the famous Philips brand, since their bulbs do not need hubs and work over Wi-Fi instead. This feature made it easier for the device to connect with the Alexa system.
Thermostats That Work With Alexa
Honeywell designed the Lyric Thermostat to look a lot like the Nest thermostat. It has a sleek, round design that not only looks good on your walls, it also saves you money on your energy bills. This smart thermostat will automatically turn off when you leave the house, or you can set it to work on a schedule. You can also control your temperature with Alexa voice commands, or with Apple HomeKit.
Sensi's programmable thermostat is one of the cheapest smart thermostats that works with Alexa. Sensi does not have a unique design or a colored screen, but it combines internet connectivity and scheduling smarts in one affordable set. With the companion app, you can set up geofencing, smart alerts, and usage reports, which will give you energy-saving tips.
If you want to find more of the best smart thermostats that work with Alexa, check out our previous article here.
Smart Security Cameras That Work With Alexa
If you want a secure home, you should consider getting a smart security system. The Blink XT camera allows you to see a live video feed of your home while you're away. These little cameras can be paired together and controlled with Alexa. This device is also waterproof, so you can set them up inside or outside.
Some homes have lawns and backyards that are so big, they need a security camera in every corner. These Netgear cameras work with Alexa, and you can see live video from your Echo Show devices with a simple voice command. They are completely wireless and waterproof, so you can set them up anywhere without fear of damaging them.
Smart Locks That Work With Alexa
This third-generation smart lock allows you to lock your door remotely from your phone. It attaches to your original lock, so you can still use your keys, but you won't need to. The August lock has a geofencing feature that will automatically unlock your door when you come home, and lock it when you leave. You can also ask Alexa to check if your door is locked when you're away, so you won't have to worry when you leave home in a hurry.
Smart Alarm Systems That Work With Alexa
If you really want to feel secure in your home, you can't go wrong with the Ring Alarm 5-Piece Kit. This kit allows you to see a live feed of your house from your Echo Show device or your smartphone. You'll also get alerts on your phone every time one of the window's or door's motion detectors goes off.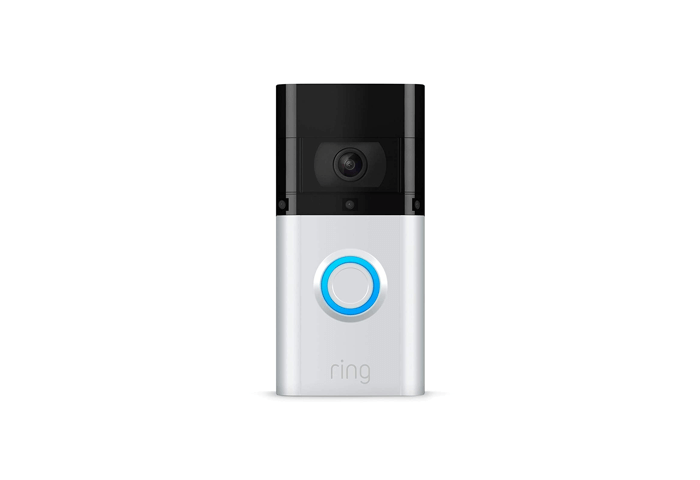 The Scout Alarm system comes with a wealth of Alexa commands that give you the ability to disarm or arm your network. Scout Alarm also prides itself for creating a top-notch, DIY security system compared to other brands.
Amazon has made a great digital assistant that caters to all of your different needs. If you live alone, Alexa can be a great companion to lock your doors or shut off your lights. You no longer have to worry about what goes on in your house because your digital voice assistant will do it for you.
HelloTech editors choose the products and services we write about. When you buy through our links, we may earn a commission.
Thanks for your feedback, add a comment here to help improve the article