---
Also known as Ultra High Definition, 4K resolution is the latest screen technology to hit the market. It has a higher resolution than 1080p screens, which most TVs have had for years. But is 4K worth it for your next purchase? We are here to help you decide. Take a look at our 4K vs 1080p breakdown below.
What Does 4K Mean?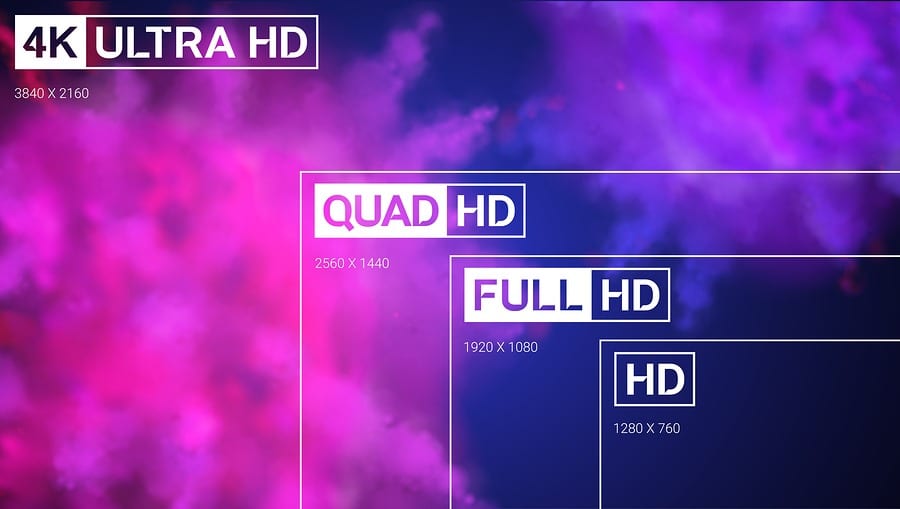 If a television is labeled as Ultra HD or 4K, it means that it has a resolution of 3840 x 2160 or 4096 x 2160. Compared to the current 1080p technology, a 4K screen has four times the number of pixels. To put it simply, TVs with more pixels per inch have better image quality.
The current 1080p resolution works beautifully with TV screens up to 65 inches. With a screen this size or smaller, the number of pixels per inch gives us clear image quality and fantastic color contrast. But as TVs get larger and larger, the pixels get bigger, or they are spaced farther apart. This is where the quadrupled pixel number of a 4K Ultra HD TV comes in handy. Technically, at least.
Can the Human Eye See 4K?  
The human eye has a finite resolution. That means you probably won't be able to notice the pixels on a TV with 1080p resolution unless you have a really big screen or you're sitting really close to the TV. In fact, you won't notice any loss of detail in a 65-inch screen with 4K resolution until you were 4-8 feet away from the screen. And, according to the Guidelines from the Society of Motion Picture & Television Engineers, you should sit at least 9 feet from a 65-inch TV to have the best field of view.
Is 4K Worth It? 
Tech companies will continue churning out 4K TV sets no matter what the science says. In fact, Samsung and Sony already have 8K sets out in the market. This rapid advancement in screen technology, however, is not enough reason to ditch 1080p and get in the 4K bandwagon just yet.
Right now, 4K TV sets can cost anywhere from a couple of hundred dollars to several thousand dollars. A quick browse on Amazon will give you options between a little over $200 to up to more than $10,000. In fact, Sony recently announced a 17-foot 16K TV, which would cost around $5 million, according to Engadget.
However, most 4K TVs come with screens between 40 to 60 inches. In other words, as we have mentioned previously, there is no way that you will perceive the pixel difference on these 4K units compared to 1080p ones. And if this is the case, it makes more sense to stick with 1080p TVs, as they are so much more affordable.
While there are lots of titles on Netflix that come in 4K, streaming them can be difficult because of their large file size. Netflix recommends you have an internet connection of 25mbps to watch Ultra HD content.
And if you consider all the smart TV features of 4K sets, there is not much difference to 1080p ones. In other words, you will end up paying a lot more only for pixel per inch difference — a difference that you will probably not notice.
But keep in mind that there is no stopping the tide of entertainment technology. Sooner or later, all TV sets will sport 4K and 8K screens. With that said, we suggest waiting until larger screens become the standard. That way, you will be able to enjoy a 4K resolution screen better. At this point in time, stick to your trusty 1080p; wait for 4K content, prices, and screen sizes to offer you better value for your money.
---
Trending Now
You may also like