A WiFi router is your gateway to the internet, and buying a new one can improve the speed, range, and security of your WiFi network. While it might be convenient to just use the router provided by your ISP (internet service provider), they are usually slower and cheaper, so they don't have the same features as newer models. Here is our list of the best WiFi routers you can get, from budget models to mesh WiFi systems for large homes.
Read More: Everything you need to know when buying a new WiFi router
Do You Even Need a New Router?
To find out if your current router is slowing you down, you just need to do a simple WiFi speed test. Then compare the download speeds with the speeds advertised in your internet service plan. If the speeds are drastically different, it might be time to buy a new router.
Read More: How to do a WiFi speed test, and what the results mean?
However, it is important to note that ISPs usually advertise the theoretical maximum speed of a plan. For example, you might probably only get max speeds of around 180 Mbps if you pay for a 200 Mbps plan.
Finding the right router can be confusing. To help you out, take our short quiz to find the perfect router for you and your home. Click the button below to give it a try: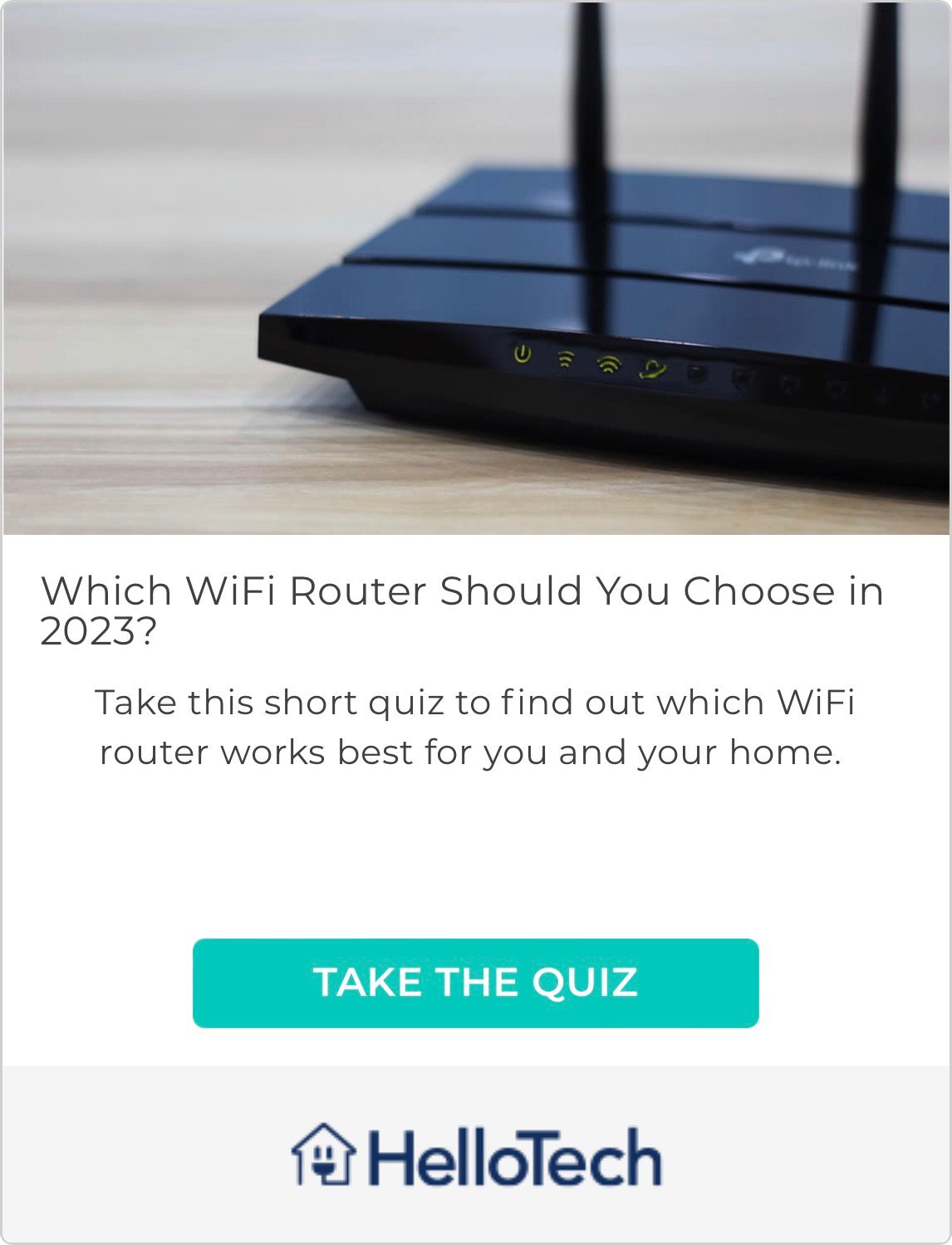 If you need any help, HelloTech has technicians across the country who can come to your home and install your new router and set up your WiFi network for you. Our experts are hand-selected, and they can answer any questions you have, so you will know your WiFi is working just the way you want.
TP-Link Archer A7: Best Budget WiFi Router
Speed: 1,750 Mbps
Coverage: 2,500 square feet
The TP-Link Archer A7 has everything the average person needs for under $100. This dual-band router can simultaneously broadcast on the 2.4 GHz and 5 GHz frequency bands, which means you essentially get two different WiFi networks to choose from.
The Archer A7 can reach speeds of 450 Mbps on the 2.4 GHz band, which is more than enough for all your low-bandwidth devices. On the other hand, the 5 GHz network can reach speeds of 1,300 Mbps, which is more than enough to stream 4K video on multiple devices at once.
Read More: What's the difference between the 2.4 GHz and 5 GHz bands?
For its price, the Archer A7 comes with lots of advanced features, like QoS (quality of service), which lets you prioritize traffic to certain devices, like your laptop. But, while it's fast enough for most users, the Archer A7 won't retain those speeds at long range. So, you should look for a next-generation router if you live in a large home or have lots of connected devices.
TP-Link Archer AX50: Best Budget WiFi 6 Router
Speed: 3,000 Mbps
Coverage: 2,000 square feet
If you're looking to upgrade your router, the TP-Link Archer AX50 is one of the best WiFi 6 routers you can get on a budget. With next-gen WiFi 6 technology, this router isn't just faster than a traditional WiFi 5 router, but it also supports more devices without slowing any of them down.
Read More: What is WiFi 6, and is it really worth it?
The Archer AX50 can accommodate up to 40 devices at once. And with its built-in beamforming technology, this router will send WiFi signals directly to your devices instead of just spreading your WiFi signal in every direction. This means your devices will have a stronger, more reliable connection.
This dual-band router can deliver speeds up to 2,400 Mbps on the 5 GHz band and up to 574 Mbps on the 2.4 GHz band. It also provides 2,000 square feet of WiFi coverage, and it doesn't experience as much lag as routers that cost twice as much.
While this router gives you access to parental controls and other security features, some of the more advanced features require a subscription to TP-Link Homecare. However, the company assured us that this service is "provided for free for the first three years and is available in all TP-Link Homecare routers."
ASUS RT-AX88U: Best WiFi 6 Router
Speed: 6,000 Mbps
Coverage: 3,000 square feet
The Asus RT-AX88U is one of the fastest and most reliable WiFi 6 routers you can get. Even if you don't pay for a gigabit internet service plan, this router can still improve your signal. Plus, there are lots of settings that you can tweak to fully customize your WiFi network.
When you buy this router, you also get a free lifetime subscription to AiProtection Pro, Asus' own network security software. This built-in feature prevents malware from infecting your devices, blocks malicious sites, and lets you set parental controls. And, unlike most routers, which only give you some of these features for a few years, Asus offers you these features for as long as you own the device.
This dual-band router can deliver speeds up to 1,100 Mbps on the 2.4 GHz band and 4,800 Mbps on the 5 GHz band. Based on real-world tests, you can actually expect to get speeds of around 400 Mbps when you're 50 feet away from this router. Also, its adaptive QoS technology will automatically prioritize the devices that get the most bandwidth. For example, you can set your laptop to always get the strongest signal, so you will never experience any lag when you're on an important video call.
Unlike most routers, the RT-AX88U comes with eight gigabit Ethernet ports to connect all your devices instead of just four. Plus, it has eight streams, a quad-core processor, and 1 GB of RAM, so you know it's fast enough to handle anything you throw at it. In fact, the RT-AX88U was one of the first routers to be certified by the WiFi Alliance to "deliver the full benefits of WiFi 6," and it still remains one of the only routers to be officially recognized as WiFi 6 compliant by the group.
Google Nest WiFi: Best Mesh WiFi System for Smart Homes
Speed: 2,200 Mbps (router), 1,600 Mbps (satellite)
Coverage: 2,200 square feet (router), 1,600 square feet (per satellite)
If you have any WiFi "dead zones" in your home, you might want to consider getting a mesh WiFi system. Unlike traditional routers, a mesh WiFi system comes with a router and at least one "satellite." Since these devices are all wireless, you can place them in any room to blanket your entire home with a strong, reliable WiFi signal, no matter how large it is.
Unlike other mesh WiFi systems, the satellites in the Google Nest WiFi system also act as smart speakers. So, if you set up satellites around the home, you will also get multi-room music, and you can ask Google questions or control your smart home devices with voice commands from anywhere.
Read More: Where is the best place to put your router?
The router in the Google Nest WiFi system gives you 2,200 square feet of WiFi coverage, while each of the satellites gives you an extra 1,600 square feet. Google recommends that you only add five satellites in a single network, which means you could get nearly 10,000 square feet of coverage from this WiFi system.
However, since it still uses the older WiFi 5 standard, this mesh WiFi system only delivers speeds up to 1,700 Mbps on the 5 GHz band and 400 Mbps on the 2.4 GHz band. Still, the Google Nest WiFi system does support advanced technologies like beamforming, advanced security, and automatic updates from Google.
ASUS Zen XT8: Best Mesh WiFi 6 System for Large Homes
Speed: 6,600 Mbps
Coverage: 5,500 square feet (router + 1 satellite)
If you want to upgrade your network's speed, range, and everything else, the ASUS RT-AX92U is one of the best mesh WiFi 6 systems you can get. This tri-band router can deliver speeds up to 4,800 Mbps on one 5 GHz band, 1,200 Mbps on the other 5GHz band, and 574 Mbps on the 2.4 GHz band.
While this two-pack provides up to 5,500 square feet of coverage, you can add more satellites to expand your WiFi coverage even more. In fact, what really sets this WiFi mesh system apart is its AiMesh technology, which lets you create your own mesh WiFi system using almost any Asus router as a satellite.
This allows you to create a single WiFi network for your entire home using your old routers, so you don't have to throw them away when you upgrade. And, since most routers these days are usually more powerful than the satellites in mesh WiFi systems, AiMesh will give you the speed of a traditional router – plus the coverage of a mesh WiFi system.
The Zen XT8's router and satellite both feature three high-speed Ethernet ports. And while the router is small, it features a dual-core 1.5 GHz processor and 512 MB of RAM. This mesh WiFi system also features AiProtection Pro, adaptive QoS, parental controls, and other Asus features.
eero Pro 6E: Most Secure Mesh System
Speed: 2,300 Mbps
Coverage: 2,000 square feet (per satellite)
The eero Pro 6E is a tri-band mesh system that supports the brand-new 6GHz frequency band. This band is bigger than both the 2.4GHz and 5GHz bands combined, and it's still so new that there's almost no traffic on it yet, so you'll get the strongest signal between the router and satellites.
Each satellite in this system provides up to 2,000 square feet of WiFi coverage, and there's no limit to how many you can add. With its TrueMesh technology, the router can also intelligently route traffic, so you won't experience any interruptions.
But what really sets this router apart is just how easy it is to use. Unlike most routers, which require you to change complicated settings manually, the eero Pro 6E is controlled through the eero app. With a few taps, you can easily block your children from viewing adult websites or get insights about any users on your network.
However, some of these features do require you to pay a subscription fee for eero Secure. This subscription starts at $2.99 a month, and it comes with other features like automatic protection against cyber threats.
HelloTech editors choose the products and services we write about. When you buy through our links, we may earn a commission.