According to the National Fire Protection Association, smoke detectors only sound in around half of the home fires reported in the US. On the other hand, smart smoke detectors don't just sound an alarm, they can also warn you when your batteries are low, send you notifications to your smartphone, and more. Here is our list of the best smart smoke detectors for every type of smart home to give you peace of mind.
Roost Smart Battery (2nd-Gen): Best Way to Retrofit Your Existing Smoke Detector
The Roost Smart Battery isn't actually a smart smoke detector at all. This WiFi-connected battery was specifically designed to work with your current smoke detector. All you have to do is plug it in, set up the Roost app, and you can turn any traditional smoke detector into a smart one.
With this smart battery installed, you will get notifications sent to your smartphone whenever your smoke alarm sounds, even when you're away from home. If you accidentally burn the toast, you can quickly snooze your alarm using the companion app.
Plus, your alarm will notify you weeks before your battery dies, so you will always know it is charged. But you won't have to replace this smart battery very often because it lasts up to five years. Since you don't have to replace your current smoke detector, this is one of the best smart alternatives for renters.
Shop: Roost
First Alert Z-Wave Smoke Detector (2nd-Gen): Best Smart Smoke Detector Ring Users
Unlike other smart smoke detectors, this First Wave model uses a wireless network called Z-Wave, not WiFi. So, it won't work with your Alexa or Google smart devices, and it requires a Z-Wave Hub, like Samsung SmartThings or Nexia Home Intelligence.
But if you have a Ring Alarm security system, this is one of the best compatible smoke detectors you can get. In fact, this model is the only smart smoke detector on Ring's list of compatible devices. With a Ring Alarm security system and a Ring Protect Plus plan, this smart detector will automatically contact emergency services when your alarm is triggered.
Once you set up this 2-in-1 smart device, it will send you real-time notifications and sound the 85-decibel horn when smoke or carbon monoxide is detected. With its photoelectric smoke sensor, this battery-powered smoke detector is less sensitive to flash fires, but that also means it is less sensitive to false alarms from cooking mishaps and steamy showers.
$36.99
$44.99
in stock
9 new from $36.99
2 used from $32.55
as of January 27, 2022 5:08 am ⓘ
Onelink Dual Detector: Best Smart Smoke Detector for Apple HomeKit Users
Anyone who builds a smart home around Apple HomeKit knows there are not many compatible devices to choose from. One of the best smart smoke detectors on Apple's list of compatible devices is the Onelink Smoke Detector and Carbon Monoxide Detector.
This 2-in-1 detector will send you a notification and sound the 85-decibel alarm when it senses smoke or carbon monoxide. With the OneLink app, multiple alarms can also be connected wirelessly, so when one goes off, they all will.
When your alarm sounds, you will get a notification and hear voice alerts that tell you the location and type of event that triggered it. This alarm also works with Alexa devices, so you can use voice commands to check the status of the detector when it goes off. However, it does not work with the Google Assistant.
$111.77
out of stock
7 new from $109.97
as of January 27, 2022 5:08 am ⓘ
Google Nest Protect (2nd -Gen) – Best Overall Smart Smoke Detector
The second-generation Nest Protect is one of the best smart smoke detectors you can find on the market today because it comes packed with tons of smart features at a reasonable price.
Google designed this smart alarm with a Split-Spectrum smoke sensor that detects both smoldering and flaming fires. The tech giant also claims that the Nest Protect has "the most accurate type of carbon monoxide sensor available."
When an alarm sounds, you will get a notification on your smartphone and hear a voice alert that tells you the location and type of event that triggered it. Plus, this smart smoke alarm has a Heads-Up warning that plays a gentle chime sound and a friendly announcement before sounding the 85-decibel alarm. This way, you can cancel a false alarm from the Nest app.
With this companion app, you will receive a notification when the device's batteries are running low. There's also a safety checkup feature that lets you test all your alarms in the app. But, if you're like most people, and you forget to test your alarms, the Nest Protect checks its own sensors over 400 times a day. When you turn out the lights to go to bed at night, this smart smoke detector will light up green to let you know everything is working properly.
Depending on what you're looking for, it's available in both hardwired (120-volt) or battery-powered models. But no matter which one you choose, they both come with Wireless Interconnect, which means you'll be able to wirelessly connect multiple alarms, so when one sounds, they all sound. However, this smart device doesn't natively support Alexa or the Google Assistant.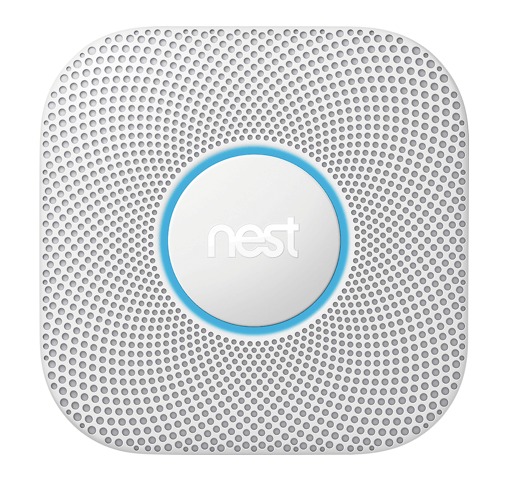 HelloTech editors choose the products and services we write about. When you buy through our links, we may earn a commission.
Thanks for your feedback, add a comment here to help improve the article