If you're not around when your Amazon packages arrive, the delivery driver might leave your stuff on your doorstep. That means your packages might be damaged or stolen. To keep your packages safe, Amazon created a service that lets delivery drivers drop your packages in a secure location. Here's everything you need to know about what Amazon Key is, how it works, where it's available, and if it is safe.
What is Amazon Key?
Amazon Key is a service that enables authorized Amazon delivery drivers to drop off packages inside your home or car. It will prevent your packages from being stolen or getting ruined in the rain. You must be an Amazon Prime member to use this service.
How Does Amazon Key Work?
For Amazon Key to work, you must install an Amazon Key Kit for your front door or garage door opener. This kit includes a smart lock, Amazon Cloud Cam, and the Key by Amazon app. Then you can receive delivery notifications, remotely control your lock, and view your video clips on your phone.
You can install the Amazon Key Kit yourself or get Amazon professionals to do it for you. Before scheduling an appointment, make sure that your door is between 1-3/8 and 2 inches thick and has a standard deadbolt mounted separately from the handle. You're also expected to do the needed drill modifications yourself prior to the scheduled service.
Once you install the Amazon Key Kit, you can use the Cloud Cam to see any guests at your home, not just Amazon delivery drivers. Then you can use the smart lock to let anyone in. That means you won't have to leave a key under the mat for the cleaner or dog-sitter that comes by your home.
Then you can download the Key by Amazon app from the Apple App Store or the Google Play Store. This will let you grant or refuse access to your home, watch video clips of your in-home delivery, and more. For home delivery, you can get your packages delivered either inside your front door or your garage.
Does Key Work with Ring?
Amazon Key's in-garage delivery works well with Ring devices. However, in-home delivery with Ring only works with Amazon Key if you have Ring Protect Plan. When your Ring account is linked to the Key app, you can remotely control your smart door locks from Live View in the Ring app.
Amazon Key also works with your Alexa devices, so you can ask Alexa if your doors are locked. Then you can use voice commands to lock and unlock individual doors.
How Does Key for Garage Work?
For Amazon Key for Garage to work, just link your smart garage door opener to the Key app. This lets you choose in-garage delivery when you buy something on Amazon, and you will receive notifications of your garage door's status. Then you can watch your in-garage delivery in real-time.
Amazon Key works with Chamberlain and LiftMaster garage door openers that have myQ connectivity. If you own a garage door opener of another brand with standard safety sensors, you should get the Key Smart Garage Kit. The kit includes a WiFi-enabled myQ garage hub and an indoor camera.
On the day of an in-garage delivery, you will be notified that your package will arrive within a four-hour delivery window. When your package arrives, the delivery driver will request access to your garage. If you permit them to enter, they will leave your package inside and ensure that your garage is locked afterward.
Keep in mind that you don't need to provide keypad codes to an authorized Amazon personnel. If you want to deny garage access instead, the Key app has a Block Access feature where your in-garage delivery can be changed to a standard delivery. Be warned that enabling this will prompt the driver to leave your package outside.
How Does Amazon In-Car Delivery Work?
Amazon couriers can also drop off your parcels inside your car when you are parked in a publicly-accessible space. But unlike in-home and in-garage delivery, the in-car delivery doesn't require an Amazon Key Kit installation.
Currently, Amazon Key supports 2015 and newer models of Volvo, Chevrolet, Cadillac, Buick, and GMC cars. The Key app can link to your car through an active connected service plan such as Volvo On Call and OnStar.
Is Amazon Key Safe?
Amazon Key has many security measures in place to ensure your packages are safely delivered inside your home or car.
When a delivery driver arrives at your home, you will receive a notification. Then Amazon will confirm that the delivery driver is at the right location before they are allowed to enter. You can also watch live video of the delivery in real-time. Once the delivery is complete, you will receive another notification, and you can check to make sure the Amazon delivery driver locked your door or garage.
Amazon screens all its delivery drivers, and none of them are given access codes or keys. Also, Amazon drivers are instructed not to go more than five feet into your home or garage. If you don't feel safe with Amazon Key, you might want to consider setting up a hidden camera that isn't connected to your WiFi.
If something goes wrong or isn't completed satisfactorily in your delivery, you can file an Amazon Key Happiness Guarantee claim on the Key app within 30 days so that Amazon can set things right.
Where Is Amazon Key Available?
Amazon Key is currently available in 50 US cities and surrounding areas. Some of the locations include Rochester (NY), Los Angeles, and Orange County (CA), Chicago (IL), Houston (TX), Phoenix (AZ), Philadelphia (PA), and Jacksonville (FL). You can check if your location code is eligible on Amazon's website.
How Much Is Amazon Key?
While Amazon Key's in-home Smart Lock Kit starts at $250, the Smart Garage delivery bundle only costs around $97. You can watch your camera's clips for the past 24 hours for free. However, if you want to view older clips, you need to subscribe to a Cloud Cam plan that ranges from $7 to $20 per month.
The Cloud Cam Basic package costs $7 a month or $70 a year, and it lets you watch your clips for the past seven days. If you want to view recordings for the last two weeks, you can opt for the Extended package, which costs $10 a month or $100 a year. Finally, the Pro package gives you access to your videos for the past month for $20 a month or $200 a year.
You can find the Cloud Cam on Amazon for under $150, and it has a lot of the same features as a video doorbell. Not only do you get 1080p HD video, but you also get intelligent motion detection alerts, night vision, and two-way audio, so you can see everything that's happening in your home and talk to the Amazon delivery driver or any other guests or intruders.
For the in-home kit, there are only three brands of smart locks that work with Amazon Key. The smart locks from Yale Key, Schlage, and Kwikset all come in different colors to match your home.
$44.00
in stock
4 new from $44.00
3 used from $40.59
as of May 30, 2023 10:48 am
$247.95
$299.99
in stock
12 new from $247.95
5 used from $225.00
as of May 30, 2023 10:48 am
out of stock
as of May 30, 2023 10:48 am
If you want to find out more about these models, check out our list of the best smart locks.
For in-garage delivery, you will need to get a myQ smart garage hub if you already have a garage door opener. If you don't have a garage door opener already, Amazon is also promoting Key-compatible smart garage door openers from Chamberlain.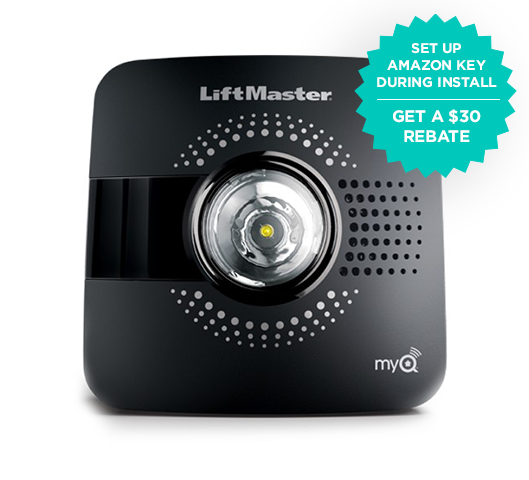 $39.98
$46.90
in stock
16 new from $22.99
8 used from $28.95
as of May 30, 2023 10:48 am
If you're not yet an Amazon Prime member, the subscription plan for Key costs $13 a month or $99 a year.
HelloTech editors choose the products and services we write about. When you buy through our links, we may earn a commission.
Thanks for your feedback, add a comment here to help improve the article