Apple TV is a streaming device that can turn any TV into a smart TV. All you have to do is plug it into the HDMI port of your TV, and then you can download apps like Netflix, Hulu, and HBO Max to watch thousands of movies, TV shows, and live sports.
Depending on what model you have, it will either support 4K or HD (high definition) video. All Apple streaming devices come with a remote, but only the newest model has a power button to control your television. Here's everything you need to know about Apple TV, how it works, and which model you should buy for your home theater.
How Does Apple TV Work?
Apple streaming devices work by connecting to the internet, so you can download streaming apps from the App Store. You can either connect your device to a WiFi network wirelessly or use an Ethernet cable to put it directly into your router for a stronger connection.
The streaming device comes with a remote control and an HDMI cable to connect to your TV. If your TV doesn't have an HDMI port, you won't be able to use it without a series of adapters and converters.
Unlike other streaming devices, Apple makes it easy to connect your AirPods for private listening. Plus, you can "mirror" what's on your iPhone, iPad, or Mac on your big screen. If you have smart home devices, you can also use the streaming device to watch a live feed of HomeKit-compatible smart cameras and video doorbells.
Check out our step-by-step guide to find out how to mirror your iPhone to your TV.
What's the Difference Between Apple TV+ and Apple TV?
It can be confusing to tell the difference between Apple TV and Apple TV+. While Apple TV is a physical device, Apple TV+ is a streaming service, just like Netflix and Hulu. So, you can watch Apple TV+ on your Apple TV device, as well as other streaming devices, gaming consoles, and more.
Apple TV+ has movies and shows exclusively made by the tech giant, and it requires you to pay a monthly subscription fee. However, when you buy a new streaming device, you will also get a free trial to Apple TV+ and the Apple TV app will come pre-installed on your device.
Apple TV 4k vs HD
Every time Apple releases a new generation of Apple TV devices, the tech giant makes two versions: a 4K model and an HD (high-definition) model. The main difference between the two devices is that one supports a higher resolution, as well as other features to improve picture quality.
In addition to supporting a higher resolution, the newest 4K model also has faster WiFi and Ethernet, which means you won't experience as much buffering or loading when watching movies. Plus, the 4K model supports HDR (high-dynamic range), which brings out more detail and color in your image.
If you want to know more about what HDR is and if it is worth it, check out our in-depth guide here.
The newest versions of the 4K and HD streaming devices are both the exact same size, weight, and both come with a Siri voice remote control.
Siri Remote
Unlike previous models, the newest Apple TV remote comes with a power button that lets you turn your television on and off without switching remotes. And with its dedicated Siri button, you can search for movies and shows using voice commands.
Should You Buy 4K Or HD?
With Apple TV 4K, you will get a more detailed picture because the device can display four times as many pixels as the high-definition (also known as 1080p) model. So, you should only get a 4K streaming device if you already have a 4K TV or you plan to buy one.
Check out our previous guide to learn more about the difference between 4K and 1080p.
How Much Does Apple TV Cost?
Apple currently sells three different versions of the newest Apple TV devices. The HD model currently costs $150, while the 4K model costs $180. You can also double the storage on the 4K model to 64 GB for an extra $20.
Where to Buy Apple TV
You can buy an Apple TV media player from the Apple Store. However, the tech giant only sells the newest versions of the Apple TV HD and the Apple TV 4K online. You can also find new and old models of the streaming device on Amazon, Target, Best Buy, and other retailers.
$149.00
in stock
4 new from $149.00
5 used from $111.75
as of January 20, 2022 4:08 pm ⓘ
$169.00
$179.00
in stock
2 new from $169.00
as of January 20, 2022 4:08 pm ⓘ
It is important to note that previous models come with fewer features and the old remotes had a trackpad instead of physical navigation buttons, which was widely criticized for being difficult to use. The old remote also didn't have a power button.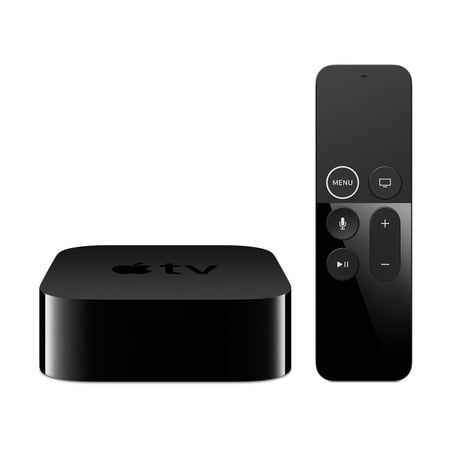 $144.00
$220.74
out of stock
$215.99
out of stock
9 new from $200.00
1 used from $160.99
as of January 20, 2022 4:08 pm ⓘ
Still shopping for a streaming device? Take our short quiz to find the best streaming device for you and your home theater setup.
HelloTech editors choose the products and services we write about. When you buy through our links, we may earn a commission.
Thanks for your feedback, add a comment here to help improve the article