Buying a new TV can be expensive, depending on when you decide to buy it. If you are looking to upgrade your TV, and you want to get it cheap, it might be a good idea to wait a little while. Here are the best times to buy a TV, and how you can find the best deals any time of year.
Black Friday and Cyber Monday: Best Time to Buy a TV
Black Friday is usually the best time to buy a new TV. You will find the biggest sales in the weeks leading up to Thanksgiving, but especially on the Friday and Monday after the holiday, also known as Black Friday and Cyber Monday.
According to a two-year analysis from Consumer Reports and GAP Intelligence, the price of a TV typically goes down after its release date until Black Friday. Then the price goes up slightly until it goes down again right before the Super Bowl starts.
On Black Friday, it's possible to save 25% to 50% or more on a TV. This could easily add up to hundreds of dollars, depending on which TV you're buying. However, it is important to note that it is less common to find deep discounts for highly-rated TV from major brands, even during Black Friday. So, if you're able to find a good deal on a TV some other time of year, it might be a good idea to snatch it up while it lasts.
If you want to know how to get the best Black Friday deals, check out our previous article here.
Super Bowl Season: Best Time to Buy a Big-Screen TV
Another great time to buy a new TV is during the Super Bowl season. These sales usually start sometime in January and lead up to the Big Game, which takes place on the first Sunday of February each year.
According to Consumer Reports, the weeks leading up to the Super Bowl account for the second-best time to buy a TV. Specifically, the analysis showed that two weeks before the Super Bowl has the best deals, with an average savings of 23% on "crowd-pleasing large-screen sets."
Manufacturers and retailers typically take advantage of sports fans and their need to impress friends and family with the biggest screen in the neighborhood to watch the game. So, you will often get the best deals on TVs that are 48 inches or larger during this time.
This is also one of the best times to buy a new TV because stores will try to clear out last year's models before the new TV lineup is released in the following months.
After Spring Releases: Best Time to Buy Last-Year's Model
Most TV brands release a new lineup between March and May. In order to make space on the shelves, stores will usually offer good deals on last year's model. So, if you don't need all the newest bells and whistles, this is one of the best times to buy a TV.
While manufacturers and retailers usually spend hours talking about all the new features you'll get with the latest TVs, last year's model is usually similar enough.
In order to find deals around this time, wait for a TV brand to announce its new lineup. Then check the prices of last year's model to see when it starts to go down. Spring closeout deals start around March and often continue into the summer.
Amazon Prime Day: Best Time for Prime Members to Buy a New TV
If you're an Amazon Prime member, you might want to buy a new TV during the online retailer's biggest sale of the year. Amazon Prime Day usually takes place in mid-July, but it will happen sometime in the second quarter of this year, according to Amazon. That means Amazon Prime Day will probably take place sometime in June this year.
During the two-day sale, you can save hundreds of dollars on TVs, especially larger models. However, many of the biggest discounts are for Amazon's own brand of TVs, and you need to be an Amazon Prime member in order to take advantage of the deals.
Labor Day: Best Time to Buy a Small TV
Labor Day usually marks the first sale after a new TV's release date. So, if you want to get the latest model for the lowest price, this is a good time to buy a new TV. Since this time also happens around back-to-school sales, you can usually find good deals on cheaper, dorm-friendly TVs between 32 and 46 inches large.
These deals usually start in August and last up until Labor Day, which takes place on the first Monday of September.
December 26th: Good One-Day Deals
Shortly after Black Friday, the day after Christmas is one of the best times to buy a TV. This is because stores are trying to sell off any TVs that are still on the shelves and all the returns that happen just after the holiday.
While you can find good deals on this day, they will be first-come, first-serve, and you might not be able to get a discount on the model of your choice.
How to Find the Best TV Deals
In order to find when a TV goes on sale, you can use a free price tracker like CamelCamelCamel or Honey. With these sites, you can quickly check the price history of any TV, find coupons, and get automatic alerts when the price drops below a certain level.
Once you decide when to buy a new TV, take our short quiz to find the best articulating wall mount to elevate your home theater.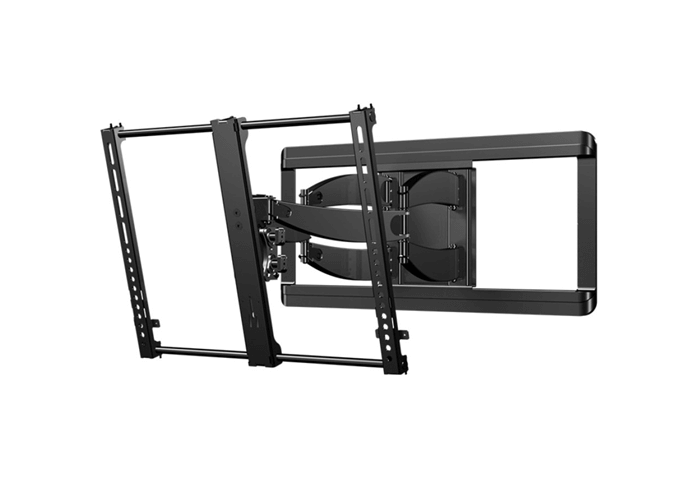 $275.37
$319.99
in stock
13 new from $275.37
Last updated on October 22, 2021 4:16 am ⓘ
HelloTech editors choose the products and services we write about. When you buy through our links, we may earn a commission.