No one likes being bombarded by pop-up ads, but every once in a while you do need them. Some sites still require that you add information to a pop-up window. Or maybe you can't view a video or page because it is being blocked by Safari's pop-up blocker. No matter what the reason, here's how to allow pop-ups on Safari.
How to Turn Off the Pop-up Blocker on Safari Desktop
The following method will only work for Mac desktops and laptops running Safari.
Open Safari.
Click "Safari" in the Apple Menu in the top-left corner of your screen. You will need to be in the Safari app to access this menu.
Then click Preferences. You can also access Safari's Preferences by using the Command + comma keyboard shortcut. For a list of the most useful Mac keyboard shortcuts, check out our previous article here.

Click on the Websites tab at the top of the Preferences window.
From the left side-bar, click on Pop-up Windows.
Finally, click the drop-down menu in the bottom right corner of the window and select Allow. This will cause Safari to allow all pop-ups. You can also choose to block all pop-ups or notify you every time they are blocked as well.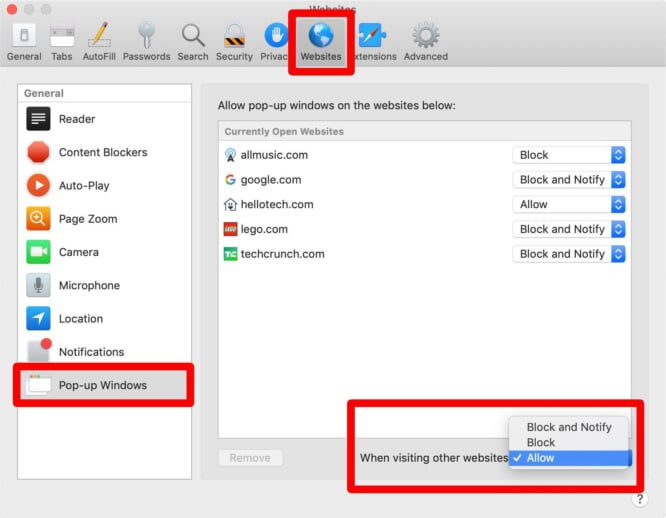 If you don't want to allow all pop-ups on Safari, you can set exceptions for certain websites or webpages that you currently have open. In the same Preferences window click the drop-down menu next to a website and select Allow.
How to Allow Pop-ups on iPhone
If you have an iPhone or iOS device, Safari is your default browser. If you want to know how to block pop-ups on your iPhone or iPad, follow the steps below.
Open the Settings app. This is an app that comes on your device and cannot be deleted. It has a gear-shaped icon.
Scroll down and tap Safari. This will have an icon that looks like your Safari app.
Finally, turn on the toggle next to Block Pop-ups. You will know it is on when it is green.
Now that you know how to allow pop-ups on Safari, find out how to clear the cache on your iPhone by checking out our previous article here.