These days, TVs are getting thinner and sleeker, which means there usually isn't enough room to include quality speakers anymore. So, to get the best audio from your TV, you're going to want to get a soundbar or surround sound system. While surround sound systems usually offer better audio quality, soundbars are much more stylish, they cost less, and they don't require an AV receiver or any complicated wiring. Here is our list of the best budget, mid-range, and high-end soundbars to elevate your home theater for any budget.
Roku Streambar: Best Budget Soundbar
Channels: 2.0
Connections: Bluetooth, AirPlay2, WiFi
Smart Assistant: Roku (only through the voice remote)
The Roku Streambar is one of the best soundbars you can get for under $100 because it also doubles as a 4K streaming device. All you have to do is plug this 14-inch soundbar into any TV that has an available HDMI port, and you will get access to streaming services like Netflix, HBO Max, and more.
You shouldn't expect to get the best sound with this small soundbar, but it does get louder than you think. Overall, it should offer a noticeable improvement over your TV's built-in speakers, giving you a richer, fuller sound. And while it doesn't have a subwoofer or a "center channel" dedicated for dialogue, you can turn on the Bass Boost and Speech Clarity settings to offset the Streambar's shortcomings.
$129.00
in stock
7 new from $129.00
3 used from $88.95
as of December 10, 2023 2:44 pm
VIZIO V51x-J6: Best Soundbar Under $200
Channels: 5.1
Connectivity: Bluetooth, WiFi
Smart Assistant: You can connect to Alexa, Google, or Siri smart speakers with a 3.5mm Aux cable
If you're looking to upgrade your home theater on a budget, the Vizio V51x-J6 soundbar can give you a surround-sound experience for under $200. This 36-inch soundbar comes with a wireless 5-inch subwoofer for deep bass and two satellite speakers that you can place behind you, but they need to be wired to the main soundbar.
Read More: How to set up a surround-sound system
The Vizio V51x delivers great sound quality for the price, and it can get loud without too much compression. The soundbar itself has 3 speakers, with a center channel dedicated to dialogue, so you'll be able to hear every word when people are talking. However, it only has one HDMI ARC port, so you won't get the highest-quality audio formats with this soundbar.
$189.99
$219.99
in stock
25 new from $189.99
10 used from $174.99
as of December 10, 2023 2:44 pm
Sonos Beam (Gen 2): Best Small Soundbar
Channels: 5.0
Connectivity: AirPlay2, WiFi
Smart Assistants: Alexa and Google built-in
If you don't have room for a giant sound system under your TV, the 2nd-generation Sonos Beam is one of the best-sounding soundbars you can get. This 25.6-inch soundbar is small enough to fit between the legs of most 55-inch TVs without obstructing your view.
The 2021 Sonos Beam has a faster processor than the original model, which allows it to support higher-resolution audio formats through the HDMI eARC port. Sonos also added Height Virtualization technology, which delivers "the impression of height," so you'll hear sounds coming from all around you, giving you a more immersive experience while watching movies.
Read More: HDMI ARC vs HDMI eARC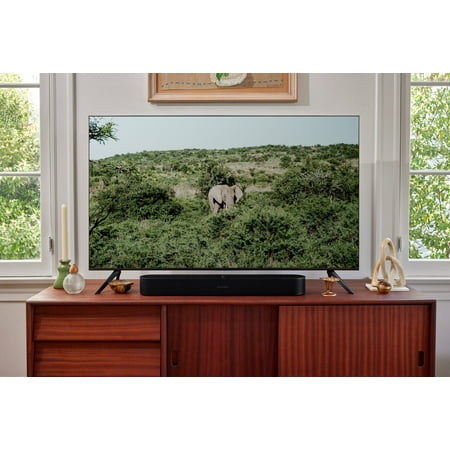 Bose Smart Soundbar 900: Best Soundbar for Music
Channels: 5.0.2
Connectivity: Bluetooth, AirPlay2, WiFi, Spotify Connect, Chromecast
Smart Assistants: Alexa and Google Built-in
When it comes to high-quality audio, it's no wonder that the Bose Smart Soundbar 900 has one of the most neutral sound profiles, making it perfect for any type of music. It's also Bose's first soundbar with Dolby Atmos, with two upward-firing speakers on the sides that deliver a 3D surround-sound experience.
The Bose Smart Soundbar 900 also comes with a room calibration feature called ADAPTiQ, which optimizes the soundbar to the acoustics of your room. However, the calibration process requires you to wear a headset with a microphone and move around the room to measure the properties of your space.
Unlike other soundbars that are totally made of plastic, the Bose Smart Soundbar 900 has a sleek design with a metal grill, rounded edges, and a tempered glass top. However, like many Bose products, there aren't many ways to manually change the EQ settings, so you're mostly stuck with the sound profile that it comes with.
$699.00
$899.00
in stock
8 used from $564.99
as of December 10, 2023 2:44 pm
Samsung HW-Q950A: Best Dolby Atmos Soundbar
Channels: 11.1.4
Connectivity: Bluetooth, AirPlay2, WiFi
Smart Assistants: Alexa built-in
If you're looking for the ultimate home theater setup, the Samsung HW-Q950A is one of the best soundbar systems you can get. Whether you're watching a movie, listening to music, or anything in between, this premium soundbar provides the best audio quality for any type of content.
While many soundbars claim to deliver Dolby Atmos, the Samsung HW-Q950A has two upward-firing speakers in the soundbar itself and two more in the satellite speakers. This allows sound to bounce off the ceiling all around you, so you get a true 3D surround-sound experience with Dolby Atmos.
Read More: What is Dolby Atmos, and what does it do?
This premium soundbar also has a microphone built into the subwoofer, which can analyze the acoustics of the room you're in and automatically adjust the sound to fit the space. Plus, there's also a dialogue enhancement feature and graphic EQ, which lets you manually adjust the sound to your liking.
$1,130.33
in stock
2 new from $1,130.33
6 used from $649.99
as of December 10, 2023 2:44 pm
To make your home theater look as good as possible, you might want to consider mounting your TV. Check out our step-by-step guide here to find out more about how to mount your TV properly.
HelloTech editors choose the products and services we write about. When you buy through our links, we may earn a commission.
Thanks for your feedback, add a comment here to help improve the article