Last week, Amazon announced a new WiFi system that was designed to blanket your whole home with the fastest internet connection possible. The tech giant also announced its cheapest gigabit eero system ever. Here's everything you need to know about the new eero Pro 6E and eero 6+, and whether either of the next-gen WiFi systems is right for your needs.
What Is a Mesh WiFi System?
Unlike a traditional WiFi router, a mesh WiFi system has at least two "access points." These points can work together and extend your WiFi network to any room to put them in. This way, you can target and remove all the "WiFi dead zones" in your home.
Before Amazon bought the company, eero made the first mesh WiFi system in 2014. Since then, eero has always made the easiest mesh WiFi systems to set up. With the new eero Pro 6E, all you need to do is connect the main eero router to your modem with an Ethernet cable, just like a regular router. Then all the other access points just need to be plugged into a power outlet, and then use the app to connect them to your mesh WiFi system.
New eero Pro 6E Specs
According to Amazon, the new eero Pro 6E can deliver WiFi speeds up to 2.3 Gbps (gigabits per second), and each access point can provide up to 6,000 square feet of WiFi coverage and support up to 100 connected devices at once.
However, it is important to remember that you will only get gigabit speeds from this mesh WiFi system if you are already paying for a high-speed plan from your internet service provider (ISP).
Read More: How to test your WiFi speed
Other than that, the eero Pro 6E is very similar to the eero Pro 6 that was released last year. They both have the exact same design, and they both come with an Alexa smart hub built-in, which helps all your smart home devices stay connected. Plus, they both feature the new WiFi 6 technology with faster speeds and lower latency.
But, as the name implies, the new eero Pro 6E also comes with even newer WiFi 6E technology.
What Is WiFi 6E?
These days, most routers are "dual-band," which means they transmit data using radio wave frequencies in the 2.4GHz (gigahertz) and 5GHz spectrum bands. But, with WiFi 6E, you can also use the new 6GHz band, which offers much more bandwidth, so you can connect more devices at once.
In 2020, the Federal Communications Commission (FCC) made 1,200Mhz (megahertz) of spectrum on the 6GHz band available for unlicensed use. That means the new 6GHz band is significantly larger than the old 2.4GHz and 5GHz bands put together.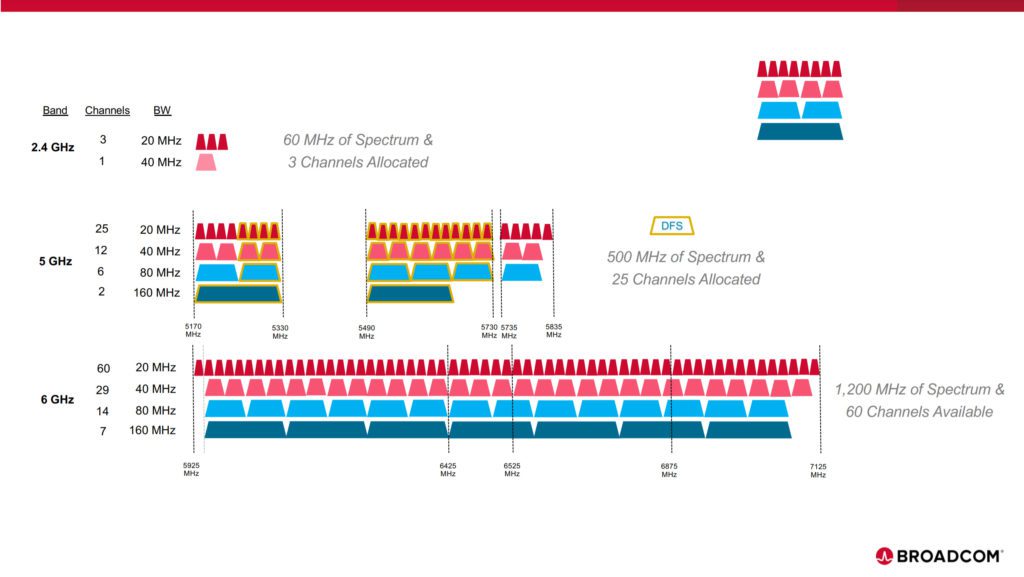 For example, the 6GHz band supports seven different 160MHz channels, while the 5GHz band only supports two. These bigger channels have enough bandwidth to support virtual reality, augmented reality, 8K streaming, and other intensive applications.
Basically, you can think of the WiFi bands as different highways. If the 2.4 GHz network is the old 2-lane highway, and the 5GHz network is like a slightly newer 4-lane highway, then the 6GHz band would be like a giant 10-lane highway that doesn't have any traffic because it's still so new.
However, since WiFi 6E technology is so new that there aren't many devices that currently support the standard. Until technology catches up, the eero Pro 6E is backward compatible, though, so it will just still work with older devices, just not at the highest speeds of WiFi 6E.
New eero Pro 6E Price and Release Date
The eero Pro 6E is now available on Amazon with a starting price of $499 for a two-pack, $699 for a three-pack, or you can get the router alone for $299. This makes the eero Pro 6E twice as expensive as last year's model, but it's still cheaper than a lot of WiFi 6E systems on the market.
$399.99
in stock
as of June 8, 2023 6:52 am
If you don't care about WiFi 6E, and you're looking to save a little money, Amazon also announced its cheapest eero ever.
New eero 6+ Specs
The eero 6+ is similar to the eero Pro 6, except each access point has a shorter range of 1,500 square feet and delivers slightly slower speeds of 1Gbps. But the biggest difference is that the eero 6+ is a dual-band system, which means that it doesn't have a dedicated backhaul band.
These days, most other mesh WiFi systems use a "dedicated backhaul" band. That means one of the WiFi bands is solely used to connect all the access points in the system together. This creates a more reliable WiFi network, so you get the same strong WiFi connection anywhere in your home.
Since the 5GHz band will handle all incoming and outgoing signals at the same time, the eero 6+ will only be about half as fast as advertised. This shouldn't be a problem unless you pay for gigabit internet speeds. Or you can also connect all your access points together using Ethernet cables to speed up your mesh WiFi network.
Read More: How to boost your WiFi signal
New eero 6+ Price and Release Date
The new eero 6+ is available on Amazon with a starting price of $239 for a two-pack, $299 for a three-pack, and $139 for a single router. That makes it about half the cost of last year's eero Pro 6 system, and it's only slightly more expensive than the eero Pro 6, which was released in 2020.
$239.99
in stock
as of June 8, 2023 6:52 am
HelloTech editors choose the products and services we write about. When you buy through our links, we may earn a commission.
Thanks for your feedback, add a comment here to help improve the article