---
If you're looking for a new computer monitor, you have plenty of options to choose from. There are plenty of monitors that fit your budget, your screen requirements, and your personal preferences. To help you trim down your choices, here is a list of the best computer monitors available in 2020.
Razer Raptor 27
If you want the most capable monitor for gaming, the Razer Raptor 27 is a great choice.
This 27-inch non-glare IPS monitor has a 16:9 aspect ratio (the proportional relationship between the display's width and height). Moreover, it has a 2560 x 1440-pixel resolution, a 144 Hz refresh rate, HDR400 support with 95% wide factory-calibrated DCI-P3 color gamut, G-sync compatibility, and the latest in adaptive sync technology.
All this technical mumbo-jumbo simply means that this monitor gives you vibrant colors and sharp images that meet new film industry standards. It also has fast response times, smooth and fluid graphic motions, wide viewing angles, better color contrast, and excellent color accuracy, all of which will enhance your entire gaming experience.
The Raptor 27 also has a unique, straightforward, and minimal design, with an edge-to-edge and bezel-less screen, a body wrapped in aluminum, and a back covered with a layer of fabric. You can tilt the screen up to 90 degrees and glide it to your desired height for optimal viewing comfort. You can also charge your mobile devices with the monitor's USB-C ports, as well as keep your cables tidy and organized with its cable management system.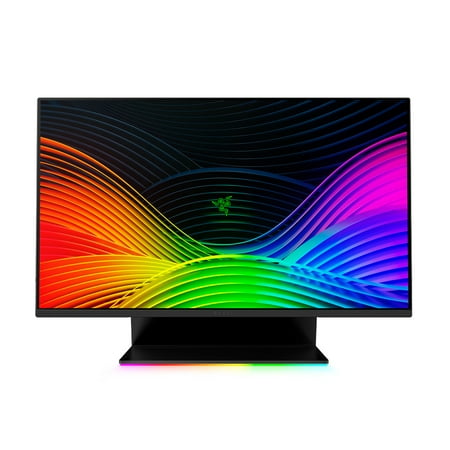 Walmart.com
Acer Predator X34
The Acer Predator X34 is one of the best overall computer monitors on the market today, especially for gamers. Thanks to its ultra-wide 34-inch IPS panel display, 29:9 aspect ratio, 3440 x 1440 resolution, ColorPlus technology with 100% sRGB gamut, and 6-axis color adjustment, this monitor gives you high-quality picture that springs to life on your screen. Visual artists and designers will also love how this monitor offers accurate color matching across print output and various applications.
Moreover, its 120 Hz refresh rate, low 4-millisecond response time, and NVIDIA G-Sync technology allow you to enjoy smooth, tear-free, and immersive gameplay with almost zero input lag.
This unit has a curved screen and an edge-to-edge zero-frame design that frees up a significant amount of screen space. It also has two built-in speakers that will give you excellent audio when you watch movies, listen to music, or play computer games.
As an added bonus, the Predator X34 helps reduce eye fatigue and eye strain from prolonged screen time with Acer's EyeProtect technology.
$999.99
in stock
5 new from $953.40
3 used from $799.99
as of August 5, 2020 7:08 am
Amazon.com
Dell Ultrasharp U2415
This Dell monitor is one of the highest-rated computer monitors on Amazon, earning 4.5 stars from more than 1,200 customers. This is because the Dell Ultrasharp U2415 delivers excellent connectivity and display performance.
The 24-inch Dell Ultrasharp U2415 has a resolution of 1920 x 1200 at 60 Hz and a 16:10 aspect ratio. It has a 6.9-mm ultra-thin bezel that gives you virtually, which means that you'll have almost no border between screens if you have a dual or multi-monitor setup. Moreover, you can adjust this monitor to your most comfortable viewing position with its 90-degree pivot and height-adjustable stand.
You also get to enjoy an anti-glare display, a built-in cable management system, and a security lock slot that protects your computer from falling over. You can connect other devices you need for your workspace with its two HDMI ports, and you can also charge your mobile devices with the USB 3.0 port on the back.
This monitor is also one of the most budget-friendly among the premium options in the market.
$260.99
$399.99
in stock
19 new from $260.99
8 used from $185.19
as of August 5, 2020 7:08 am
Amazon.com
Free shipping
Samsung CF791
The Samsung CF791 Series monitor promises immersive viewing and multitasking capability with its 34-inch ultra-wide curved display and 21:9 aspect ratio. It has a 3440 x 1440 screen resolution, a 100 Hz refresh rate, a 4ms response time, and Quantum technology that supports up to 125% RGB color space. All these specs give you sharp and life-like images and smooth motion that allow for a beautiful cinematic experience when watching movies or gaming.
This monitor has a sophisticated and stylish design without sacrificing function. Its screen has no bezels on three sides and has an anti-glare panel to give you seamless and strain-free viewing. It also has an adjustable stand that lets you swing and tilt the screen to your desire.
There are 7-Watt built-in speakers that give you clear sounds to match your crisp visual content. You can connect additional screens, game consoles, PCs, and other devices via multiple ports.
$1,900.00
in stock
1 new from $1,900.00
1 used from $795.33
as of August 5, 2020 7:08 am
Amazon.com
BenQ EX3203R
The BenQ EX3203R is one of the more affordable and high-quality monitors on the market today. This monitor has a 31.5-inch curved VA display, a 2560 x 1440 resolution, a 144 Hz refresh rate, a 4ms response time, HDR400 support, and a 16:9 aspect ratio. That means you get vibrant images, sharp and clear details, excellent color contrast, smooth and fluid gameplay, and zero tearing and broken frames.
You will love its ambient light sensor, which detects color temperature and ambient light levels. Then it adjusts the brightness automatically to reduce eye strain. It also has the Brightness Intelligence Plus technology, which balances display color for a more life-like image quality.
Moreover, the monitor offers convenient connectivity with its USB-C port. It also has an ultra-slim bezel for a seamless, edge-edge viewing experience, especially when you have multiple monitors in your workspace or entertainment area.
$599.99
$699.99
in stock
8 new from $599.99
as of August 5, 2020 7:08 am
Amazon.com
Free shipping
In case you want to upgrade your PC, we also have a list of the best desktop computers for 2020.
---
Trending Now