Unlike traditional routers, WiFi mesh systems allow you to expand your WiFi signal to any part of your home. These mesh WiFi systems include several nodes or "access points," each of which acts like separate routers. So, you can place as many of these access points as you need to blanket your home in a strong, reliable WiFi network. Here is our list of the best mesh WiFi systems for 2020.
Google Nest: Best Mesh WiFi System for Music Lovers
If you already have Google products, then the Google Nest mesh WiFi system will be a welcome addition to your home. You can choose to buy one to three routers (also called points) to boost your WiFi coverage. Each Point also doubles as a smart speaker powered by the Google Smart Assistant, which you can use to control smart home devices or play music from your phone.
Google Nest WiFi envelops your home with WiFi, whether you have a 915-square-foot apartment or a 2,745-square-foot home. You can enjoy hiccup-free connectivity thanks to Google's Network Assist, which identifies the least congested channel and the fastest WiFi point and band.
If you want to know more about mesh systems, check out our guide on what a mesh WiFi system is and how it works here.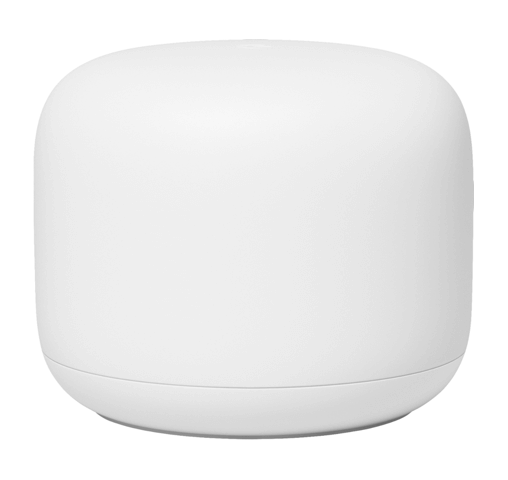 Samsung SmartThings: Best Smart WiFi Mesh System
Samsung SmartThings mesh WiFi system is a router and a smart home hub rolled into one. This mesh WiFi system uses artificial intelligence to give you the best WiFi signal possible by identifying the fastest channel you can connect to. It also analyzes your WiFi usage and reserves more bandwidth to devices that need it the most. As a smart home hub, it also lets you connect to and control over 100 compatible devices, making it one of the best smart mesh WiFi systems today.
The network is capable of speeds of up to 866 Mbps (megabits per second) on its 5GHz channel and 400Mbps on its 2.4GHz channel. One device can cover up to 1,500 square feet. That means you would only need three access points to cover a 4,500 square-foot home.
If you want to see how your WiFi signal stacks up, check out our guide on how to test your WiFi speed here.
$279.99
in stock
2 new from $279.99
1 used from $225.00
as of May 11, 2021 6:15 pm ⓘ
Synology MR2200ac: Most Versatile Mesh WiFi System
The Synology Mesh Router MR2200ac is the company's first foray into mesh WiFi systems. You can use it as a standalone router or add additional access points to form a mesh system. One unit is able to provide up to 2,000 square feet of WiFi coverage. And, when you combine it with the Synology RT2600ac high-speed router, it can provide 5,000 square feet of WiFi coverage.
Synology has self-configuring WiFi points that make it easy for anyone to set up and customize their network. It also has a WiFi Connect feature that gives you a visual map of all your connected devices, so you can quickly see which devices are causing bottlenecks in your system.
By connecting an external hard drive, you can turn it into a network-attached storage (NAS) device, so you can access your data when you're out of the house. You can also run VPN, DNS, or media servers by installing packages from the Package Center. All these make the Synology Mesh Router MR2200ac one of the best mesh WiFi systems for flexibility and versatility.
$139.29
in stock
41 new from $137.90
2 used from $124.95
as of May 11, 2021 6:15 pm ⓘ
Linksys Velop: Best Mesh WiFi System for Advanced Users
Whether you're adding to your existing network or setting up a new one, the Linksys WHW0303 Velop Intelligent Mesh WiFi System is the best option for scalability. You can buy just one device or get a two-pack or three-pack. This makes it easy to set up more nodes as your WiFi needs increase.
Each node has a small footprint and a sleek design that will make it a stylish addition to any corner of your home. It comes with Intelligent Mesh technology that detects unplugged nodes and chooses the best channel for your devices at speeds of up to 867Mbps.
For advanced users, there are features like MAC address filtering, port forwarding, port triggering, and more. You can also assign different network names to different channels.
$349.97
$369.99
in stock
25 new from $349.97
8 used from $209.00
as of May 11, 2021 6:15 pm ⓘ
TP-Link Deco M5: Best Mesh WiFi System for Beginners
The TP-Link Deco M5 is incredibly easy to set up, which makes it one of the best mesh WiFi systems for the non-tech savvy. Setting up your network with the Deco app is straightforward. You just have to hook up the Deco device to your modem, turn it on, and follow the on-screen instructions from the app. It even tells you the best place to put your access points to maximize your WiFi signal in any home.
Once you set up your mesh WiFi network, the TP-Link Deco M5 creates a single network, so you don't have to type in a new password when you move from room to room. It also offers an advanced real-time antivirus, simple parental controls for every member of the family, and voice control with Alexa-enabled devices.
With the three-pack of this mesh WiFi system, you get coverage for 3,800-5,500 square feet. It offers WiFi speeds of up to 400Mbps on 2.4 GHz and 867 Mbps on 5 GHz.
If you want to know more about the difference between 2.4 GHz and 5 GHz channels, check out our guide here.
$152.99
$189.99
in stock
35 new from $152.99
1 used from $189.99
as of May 11, 2021 6:15 pm ⓘ
Netgear Nighthawk XRM570: Best Mesh WiFi System for Gaming
The Netgear XRM570 Nighthawk Pro Gaming WiFi Router is one of the best mesh WiFi systems for gamers. This two-piece system consists of the Nighthawk Pro Gaming XR500 router and the Nighthawk Mesh Extender EX7700. The router is capable of delivering speeds of up to 1,733Mbps on the 5GHz band and 800Mbps on the 2.4GHz band. When paired with the router, this mesh WiFi system gives you 5,000 square feet of coverage.
What sets this mesh WiFi system apart from the rest is that it has a dedicated 5 GHz backhaul band that can deliver speeds of up to speeds of 1,733Mbps. The extra channel ensures you'll never have any problems connecting to your WiFi network again.
The router also has four internal antennas and amplifiers that are capable of beamforming. This enables the router to detect connected devices and channel the signal towards them instead of directing it in a scattershot direction.
This mesh WiFi system has a host of pro gaming features that let you enjoy high-speed gaming from anywhere in your home. For instance, the Anti-Buffer Bloat (ABB) and Advanced Quality of Service (QoS) features allow you to prioritize traffic for lag-free gaming. You can also take control of your gaming experience with the DumaOS dashboard, which lets you see what's congesting your network and analyze your internet usage.
$539.99
in stock
1 used from $539.99
as of May 11, 2021 6:15 pm ⓘ
Amazon eero Pro: Best Overall WiFi Mesh System
The Amazon eero is one of the best mesh WiFi systems you can get for decent performance at a great price. Before Amazon acquired eero, the company pioneered multi-point mesh WiFi systems. This early experience in mesh technology makes this system simple and intuitive. It also has a user-friendly app that will help you configure your network in less than 10 minutes.
Each eero node uses tri-band WiFi with an additional 5.8 GHz channel. As a result, you get reliable internet connection even across walls, and other obstacles at speeds up to 1 Gbps, which is more than most users will ever need.
Each eero Pro node gives you 1,750 square feet of WiFi coverage, so a three-pack will easily blanket your entire house with WiFi. It also offers a secure connection with WiFi Protected Access 2 (WPA2) encryption. Plus, you get automatic updates, so you can be assured that your network is always secure.
In addition, this mesh WiFi system works with Alexa and Apple Homekit devices, which lets you control your network with voice commands. For instance, you can set profiles for each member of your family, and set times when they can access the internet or pause the internet for any user.
$199.00
in stock
as of May 11, 2021 6:15 pm ⓘ
If you're in the market for a traditional router, check out our list of the best WiFi routers for 2020 here.